Bauhaus Architecture in Tel Aviv
Some places in Tel Aviv have a high concentration of buildings in the Bauhaus style – Rothschild Boulevard, Bialik Square, and Habima Square. Next to Dizengoff Square there is the Bauhaus Center where you can start a Bauhaus Tour. If you want to stay in a boutique hotel built in Bauhaus style, click here.
The Bauhaus concept and history
The architectural style Tel Aviv is most famous for is the International Style. In Europe in the 20th century, architectural schools arose that advocated simplicity, minimalism, and functionalism. This modern building style was based on concrete and steel beams, making arches unnecessary and causing decorative and ornamental elements to look outdated. The school most associated with the International Style is Bauhaus, which began in the German city of Weimar and then moved to Dessau and later Berlin. Because of Bauhaus's impact on modern architecture, the International Style is sometimes known under the name of this school. This was the first time that architects addressed the needs of the middle class and not just those of the aristocracy.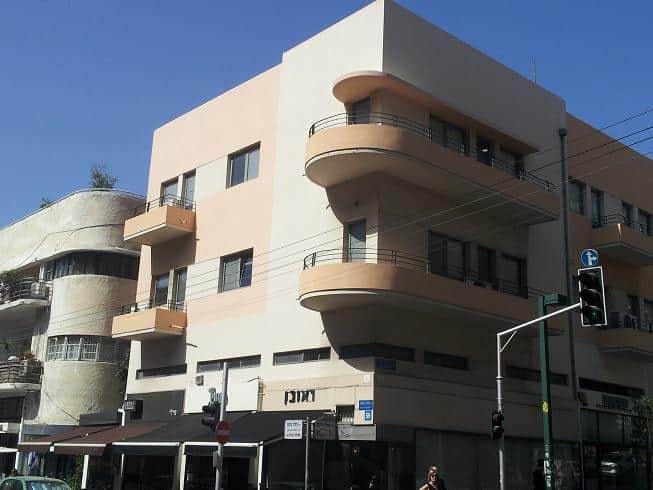 The International Style received its name because the architects behind the concept believed that human needs were the same everywhere. The main feature of the style was functionalism, meaning that the house would be built from the inside out – giving human needs first priority before turning to the outside. The exterior of the building encases the functional rooms and is therefore free of ornaments and has mostly straight lines. As it wasn't functional, symmetry also lost its importance in this architectural style. Its guiding principle, considered radical at the time, was "form follows function." The few ornamental touches that characterize the International Style are curved balconies and round windows. These features were inspired by ship construction. Because ships were built in different places around the world based on the same standards and had to deal with the same challenges, devotees of the International Style saw a similarity to their ideas.
After Hitler rose to power in 1933, the Bauhaus School was shut down as it was seen as too modern, communist, and Jewish for the Nazi ideology. Tel Aviv's growing population, many of whom were Jews from Germany, included architectural students who were followers of the International Style, thus prompting Tel Aviv to become closely identified with this style. The Bauhaus school was about more than just curved balconies and straight lines; it was a declaration of intent. The developing city of Tel Aviv turned its back on Jaffa and Jerusalem, cities of stone that cling to a glorious past, and asked to be a new city of a revived nation on the shore of the Mediterranean Sea.
More sights in Tel Aviv:
St. Peter's Church – where Christianity separated from Judaism
Jaffa Port – the unimpressive gate to the Holy Land…
Eichmann's Prison Cell
Rabin Square – unimpressive, gray, lacking in history and yet… 
Sarona – from German colony to exclusive shopping center
The American Colony – Mark Twain, Herman Melville and John Steinbeck in Tel Aviv
 My 6 Most Popular Posts:
For more information about your tour in Israel, check out my travel guide booklets:


Comments