Visiting the Gethsemane Church
The Gethsemane Church is situated in the valley between the Mount of Olives and the Old City. All the sights on Mount of Olives and Old City sights are within walking distance. Knees and shoulders must be covered.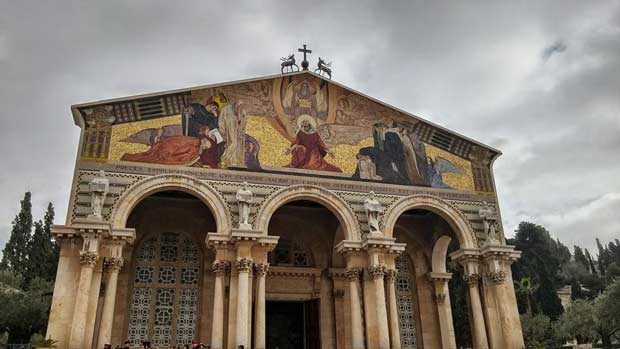 The meaning of the name Gethsemane
The name Gethsemane comes from two Hebrew words – "gat"(press) and "shmanim"(oils). When the Bible was translated, the two words were accidentally written as one word. This is not the only mistake in the Bible's translation. The name Armageddon is actually two words in Hebrew – "Har Megiddo" (the mountain of Megiddo). In the church's garden are some very old olive trees. It is difficult to estimate their exact age because the main trunks have died over time and new shoots have grown up around them. Researchers estimate that they are between seven hundred and one thousand years old. The Franciscans claim that one of the trees is two thousand years old – from the time of Jesus.
Jesus in Gethsemane
This church honors one of the most difficult periods in Jesus' life. If the Mosque of the Ascension at the top of the Mount of Olives reminds us of Christ's divine aspect – his ascension to heaven – this place, at the lowest part of the Mount of Olives, reveals Christ's human side to us. After Christ and his followers ate the Last Supper, they came to sleep in a cave in this area. Jesus could not sleep and asked three of his disciples to come and pray with him. Jesus prayed to the Father and asked, "Father, if you are willing, take this cup from me." Jesus knew that he would be crucified the next day and asked his Father for mercy. After the prayer, he saw that his disciples had not prayed with him like he asked but instead had fallen asleep (Luke 22: 39–46).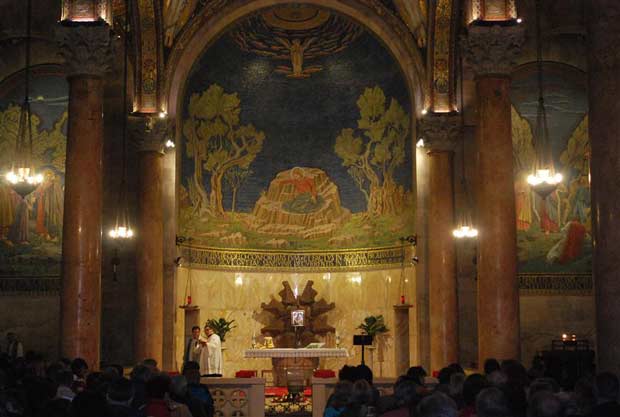 The Gethsemane Church
Antonio Berluzzi, who planned this church as well, designed the church to be gloomy in order to emphasize this dark event. When the base was rebuilt, remnants and part of the mosaic from the first church (built here in the 4th century) were uncovered. Berluzzi redesigned his plans of the church so that its contours would more closely resemble the ancient church that once stood here. Fragments from the 1,500-year-old mosaic were combined with the new mosaic on the floor of the church and protected by glass. The roof of the church has twelve domes, each one dedicated to a country that contributed money for the building of the church. The church was inaugurated in 1924, and its construction was made possible by the contributions of twelve nations that fought on both sides during World War I – thus earning the name "Church of All Nations." The most important place of the church is not the roof or the floor, but the stone that rests before the altar upon which Jesus prayed the night before his crucifixion.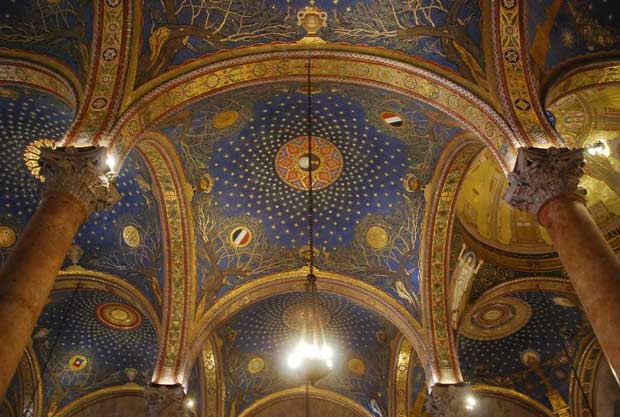 Opening hours:
April–September: 8:00–12:00, 14:00–18:00
October–March: 8:00–12:00, 14:00–17:00
For more information: Custodia Terrae Sancrae
More sights in Jerusalem:
The Mount of Olives – the place to be at the end of days…
The Chapel of the Ascension – a mosque that turns into a church… 
The Church of the Holy Sepulchre
The Wailing Wall (Kotel) – not the holiest place for the Jews
The Old City of Jerusalem – the holiest square kilometer in the world
The most important museums in Jerusalem
 My 6 Most Popular Posts:
For more information about your tour in Israel, check out my travel guide booklets:


Comments