Visiting the American Colony
The American Colony consists of only three short streets. You can combine it with a tour of sights in Jaffa and Neve Zedek. At the Beit Immanuel Guest House there is a room dedicated to the colony's history. Ask the staff politely to see it. You can also visit the Main Friendship House.
Opening hours of the Main Friendship House:
Friday: 12:00–15:00, Saturday: 14:00–16:00
Phone: 03-681-9225
 Mark Twain, Herman Melville, and John Steinbeck (from wikipedia)
Between Jaffa and Tel Aviv, there are three quiet, narrow streets that are part of a story unknown even to many in Israel – the settling of groups of Americans in the Land of Israel during the second half of the 19th century. Although rather small and of minor importance, these settlements connect three well-known American writers – Mark Twain, Herman Melville, and John Steinbeck – and came about because, during this time in the United States, Protestant Christians, many of whom were messianic and evangelical, showed growing interest in the Land of Israel and desired to make their home there. One of these settlements was the American Colony in Jaffa.
Like what you're reading? Great! This post is part of my Tel Aviv booklet. If you like what you're reading and are planning to travel to Israel, or if you just want to support me, you can download my eBooks from Amazon, Kobo, Barnes & Noble and Apple iBook. Or order all three booklets from Amazon.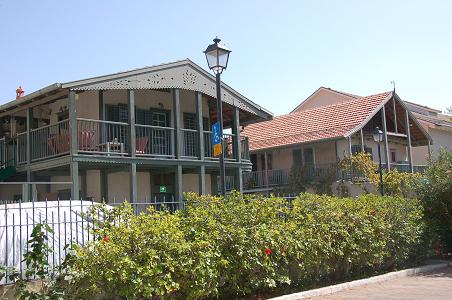 Three narrow streets of the American Colony are all that remain of this saga.
In September 1866, a group of 157 people from the U.S. state of Maine, led by a charismatic preacher named George J. Adams, decided to migrate to the Land of Israel. They believed that by doing so, they were contributing to the return of the Jews to their homeland, which in turn would hasten salvation and the second coming of Jesus. They acquired a ship, which was built in such a way that its interior walls could later be used as the walls in their new houses. Besides bringing with them the hope of salvation and pre-made houses, the settlers were also the first to use advanced agricultural equipment and horse-drawn carriages in the Land of Israel. They managed to build their houses and engage in farming, but the harsh living conditions and the gangs of Arabs, who harassed them and stole from them, forced many to leave. After a mere year and a half, there were only 40 settlers left, and these remaining few sank further and further into despair and impoverishment. In 1869, the property of the colony was bought by the German Templers, a messianic group that had arrived several months before the Americans. In 1904, the Germans built the church that is used today by Messianic Jews (Jews who believe in Jesus) and by a community of migrant workers who come to pray there.
When Mark Twain took part in a pleasure excursion to the Mediterranean Basin with a small group of American pilgrims and tourists, he observed some of the American settlers at the port. Twain recorded his observations in The Innocents Abroad, or The New Pilgrims' Progress, his best-selling book during his lifetime. This is what he wrote:
But I am forgetting the Jaffa Colonists. At Jaffa we had taken on board some forty members of a very celebrated community. They were male and female; babies, young boys and young girls; young married people, and some who had passed a shade beyond the prime of life. I refer to the "Adams Jaffa Colony." Others had deserted before. We left in Jaffa Mr. Adams, his wife, and fifteen unfortunates who not only had no money but did not know where to turn or whither to go. Such was the statement made to us. Our forty were miserable enough in the first place, and they lay about the decks seasick all the voyage, which about completed their misery, I take it. However, one or two young men remained upright, and by constant persecution we wormed out of them some little information. They gave it reluctantly and in a very fragmentary condition, for, having been shamefully humbugged by their prophet, they felt humiliated and unhappy. In such circumstances people do not like to talk.
The colony was a complete fiasco. I have already said that such as could get away did so, from time to time. The prophet Adams – once an actor, then several other things, afterward a Mormon and a missionary, always an adventurer – remains at Jaffa with his handful of sorrowful subjects. The forty we brought away with us were chiefly destitute, though not all of them. They wished to get to Egypt. What might become of them then they did not know and probably did not care – any thing to get away from hated Jaffa.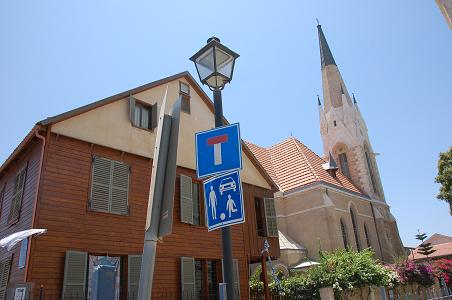 Immanuel Church – The American Colony
In 1857, ten years prior to Mark Twain's voyage, Herman Melville, the author of Moby-Dick, visited the Land of Israel. Melville's impression was not unlike Twain's. In his Journal of a Visit to Europe and the Levant, he also wrote about a neglected, impoverished land in which gangs of Arabs menaced the inhabitants:
In the afternoon called upon Mr. & Mrs. Saunders, outside the wall, the American Missionary. —Dismal story of their experiments. Might as well attempt to convert bricks into bride-cake as the Orientals into Christians. It is against the will of God that the East should be Christianized.
The settlement Melville writes about is actually the first American colony outside Jaffa's walls – Mount Hope Colony. The settlement was established in 1853 by a group of Americans and led by a woman named Clorinda S. Minor, an evangelical missionary who believed the end of the world was imminent and the only way to bring about salvation was by observing the Sabbath and encouraging Jews to return to the Holy Land. Later on, a group of German Protestants who shared these beliefs joined the settlement. This group settled several kilometers outside the walls of Jaffa and established an agricultural farm. Melville summarized their settlements in these words: "The whole thing is half melancholy, half farcical – like all the rest of the world." He also added: "No country will more quickly dissipate romantic expectations than Palestine – particularly Jerusalem."
The settlement suffered from frequent harassment and pilfering by local Arabs and Bedouins. One night in January 1857, matters turned even worse. Arabs broke into the settlers' farm, murdered one of the men (Frederick Großsteinbeck), and raped a mother and her daughter. Following the incident, the settlers decided to abandon the colony and immigrate to the United States. Among those who left was Adolf Großsteinbeck, the brother of the deceased. Adolf's grandson, the famous American author John Steinbeck, incorporated parts of his family history into his novel East of Eden. In 1966, he made a trip to Israel in search of his family roots. He found few signs of the settlement. The farm buildings were gone without a trace. Where they once stood is now the high school Shevah Mofet (7 HaMasger Street). Two large sycamore trees in the middle of the school yard are all that remains of the settlement. The HaTikva ("Hope") neighborhood in southern Tel Aviv was named after the Mount Hope Colony.
Like what you're reading? Great! This post is part of my Tel Aviv booklet. If you like what you're reading and are planning to travel to Israel, or if you just want to support me, you can download my eBooks from Amazon, Kobo, Barnes & Noble and Apple iBook. Or order all three booklets from Amazon.
More sights in Tel Aviv:
St. Peter's Church – where Christianity separated from Judaism
Jaffa Port – the unimpressive gate to the Holy Land…
Eichmann's Prison Cell
Rabin Square – unimpressive, gray, lacking in history and yet… 
Sarona – from German colony to exclusive shopping center
Bauhaus – a style that defined Tel Aviv
 My 6 Most Popular Posts:
For more information about your tour in Israel, check out my travel guide booklets: