Flying to Israel
Your trip to Israel begins even before you arrive in the country.
It will begin at whichever airport your flight to Israel departs from. Waiting in line, you will most likely see Israelis who are returning home. It's easy to recognize them – they travel with enormous suitcases. Israelis can't stop shopping when they're abroad.
As a tour guide in Israel and a guide for Israelis abroad, I never cease to be amazed by this fact. Tourists who come to Israel will typically buy a piece of jewelry, an olive wood figurine of Jesus, a few dates, and that's about it. Israelis though, when traveling abroad, will buy clothing, shoes, electronic appliances and, the most Israeli thing – presents for the children.
Flying to Israel – Security
You will also notice that the security arrangements are stricter. Sometimes there's an additional check after Duty Free and you might be asked a few questions before you check in your suitcases. Everyone is asked the same questions, and it's not to be taken personally (though a single man in his twenties who's traveling alone might be asked more questions than a family traveling together).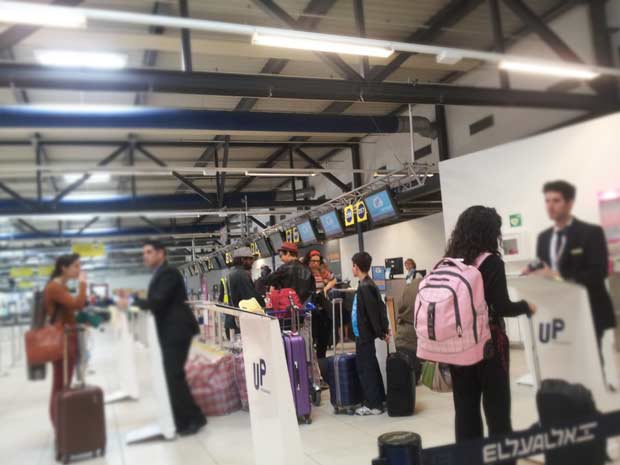 Security check and questioning before check-in.
TLV Airport
Even though Israel has a population of almost eight million people, there's only one international airport – the Ben Gurion Airport (abbreviated to NATBAG in Hebrew or TLV – Tel Aviv). If you're flying with El Al, the national carrier, you can expect to hear the well-known song 'How Good You're Home' by Arik Einstein after you've landed. You'll also see that Israelis sometimes clap when the airplane lands. Even before the signal turns off the Israelis will be on their feet as if in a terrible hurry to get off the plane. It is all part of a very Israeli ability to stress out and forget one's manners.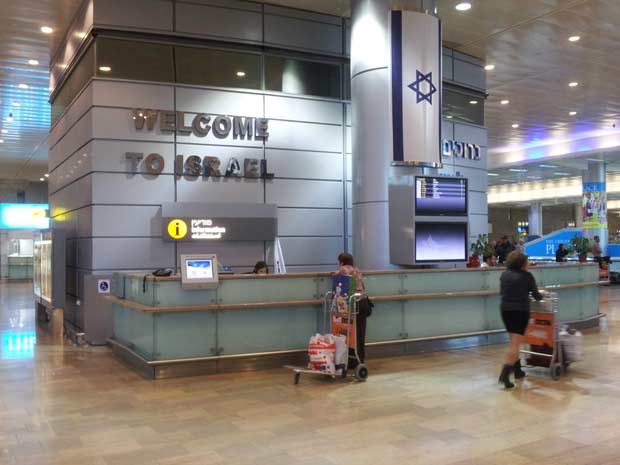 Free maps and information at the counter of the Ministry of Tourism.
At border control your passport will not be stamped if you don't want it to be; this is because there are some Arab countries that will question you if you have a stamp from Israel. After that you collect your luggage and go through customs.
The Ministry of Tourism operates a counter at Ben Gurion Airport. It is located right after border control, in the luggage hall. At the counter you can pick up free maps and get help with ordering a hotel or traveling on to your final destination.
Your last stop before leaving the airport is the huge welcome hall. There you will often see families waiting for a family member staying for just a couple of days. Israeli society is very warm (sometimes too warm and a bit sticky) – something you will be sure to notice.
Transportation to and from Ben Gurion (TLV) airport
Ben Gurion airport is located in the middle of Israel, between Jerusalem and Tel Aviv.
Ben Gurion airport to Tel Aviv – 20 km (13 miles)
Ben Gurion airport to Jerusalem – 40 km (25 miles)
Ben Gurion airport to Haifa – 110 km (70 miles)
Tel Aviv is the most convenient as well as the cheapest city to get to from the airport. There is a train running from the airport to Tel Aviv (and to many other destinations). As yet there is no train to Jerusalem (the line should open in 2017) but a shared taxi service (taxis of 10 passengers) will take you where you need to go for 60 NIS (shekels). You can of course take a taxi from the airport to any destination you would like but it will cost more.
Starting February 2017 there is a new bus line from Jerusalem to Ben Gurion (TLV) airport and back every hour (Friday until 14:00 Saturday from 21:00) Line 485.

Note that there is no public transportation in Israel from Friday afternoon until Saturday evening. However, shared taxis to Jerusalem continue to run and there are regular taxis to Tel Aviv (and elsewhere). Trains to Tel Aviv and Haifa stop running on Friday afternoon and resume services on Saturday evenings (Israeli rail internet site)
More information about transportation in Israel
Flying from Israel
I recommend spending your last night in Israel in Jerusalem or, even better, in Tel Aviv. Both of the cities are about 40 minutes from the airport so in the event of any problem – the taxi doesn't come or the train doesn't run – you will have enough time to find an alternative. From Tel Aviv it is cheaper to get to the airport and there is a train that runs at regualr intervals from Tel Aviv to Ben Gurion Airport. You are advised to get to the airport at least two and a half hours before your flight.
There is more to consider when flying from Ben Gurion Airport than there is when flying from any other airport, and there are two reasons for this.
The first is that it is the only international airport in Israel, which is not that big a deal, but if you add to that the fact that Israelis can't visit neighbouring countries, it makes the airport the only gateway for people visiting Israel and essentially the one gateway all Israelis have to go through when traveling abroad.
Almost all of the places you will visit are sites and accommodation where you will encounter other tourists, but here, more than anywhere else in Israel, you will come across all kinds of Israelis: lower middle-class Israelis going on vacation to nearby countries; young Israelis flying off on their big trip after completing their army service in South America or the Far East; Orthodox Jews going to visit their communities all over the world; businessmen; couples who left their kids with the grandparents and are flying off to relax for a few days; package holidays for pensioners, etc. You can expect to see a whole range of Israeli society as you sit in the middle of Duty Free.
Duty Free
Once you have passed through security and border control you will enter the last important Israeli institution – Duty Free. Israelis love Duty Free. People are often late for their flights because they were too busy shopping. Vacation and shopping are synonyms for Israelis and the vacation starts in Duty Free.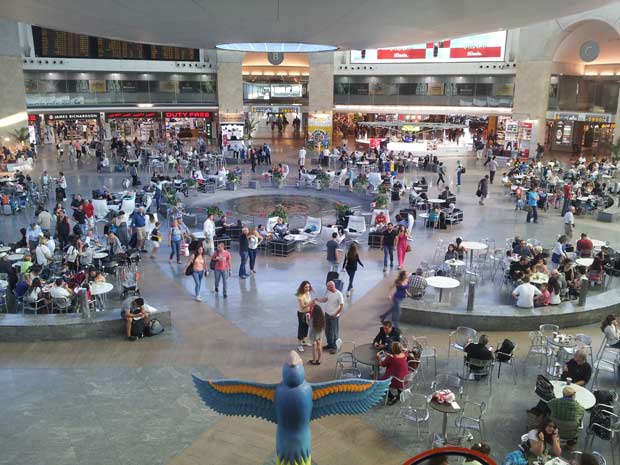 The Israeli vacation starts here in Duty Free.
In 1989 Israelis invented a duty free service called Arrival Collection Service which means that you buy before you fly but don't take the goods with you and instead pick them up when you come back. This led to duty free shops also selling big products and many Israelis now buy TVs, washing machines and refrigerators as well as the usual alcohol, cosmetics and cigarettes. This means that the Israeli Duty Free holds a few world records (one of the biggest duty free shops in the world, the highest expenditure per traveler) and has become a national consumerist phenomenon. (Honestly, I don't know if this is a good thing).
I really want to change how individual travelers see and experience Israel and there are a lot more videos and posts I want to create and upload, ranging from planning your trip to Israel's history and culture. If you'd like to support me, you can do it in one of two ways: by buying my booklets or, if you're traveling to Israel, by booking your hotels and hostels through the links on my website. You'll pay exactly the same amount and I'll get a small commission that allows me to add more content. Thanks for your support!
For more information: Israel Airports Authority
Related posts:
Transportation in Israel
Basic Itinerary for Israel
My 6 Most Popular Posts:
I want my internet site to be the best source of information about traveling to Israel. For that to be the case, I need your help. I want to know what you want to know, so if you have any questions, please write them down here and I will do my best to answer them!