Visiting the Jaffa Port
The port is small and should be combined with your tour of Jaffa/south Tel Aviv. There is not much to see or to do there.
Jaffa doesn't have an impressive port. If you've been to Greece or Italy, you've seen larger ports in any small fishing village. There are several reasons for this, but the main one is that Greeks and Italians have always orientated themselves toward the sea and the islands. Jaffa's orientation, and the orientation of the rulers of the Land of Israel, was almost always toward the interior – to the land, to the mountains, to Jerusalem and Cairo, and to the Mesopotamian region (modern-day Iraq, Iran, and Syria).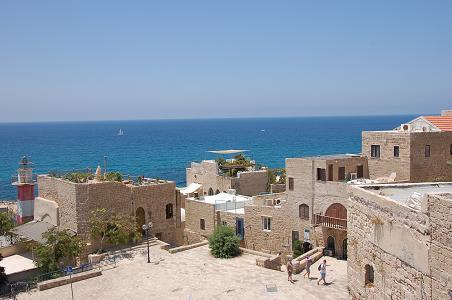 Of course, the long coastal strip of Israel played a historical role – the Greek and Roman Empire made extensive use of the coastal cities, and there were other peoples, such as the Philistines, who came from across the sea – but when looking at the big picture, it becomes clear that over the last thousands of years, the Land of Israel has been ruled mainly by land-based empires. History is anchored in geography. As opposed to Greece, which has natural bays that act as harbors for fishing vessels, the Israeli coastline is sandy. In Jaffa, there were some rocks that protruded out to the sea and acted as a base for a harbor. But in the 19th century, when big steamboats started frequenting the shores of Jaffa, they couldn't approach the shore because of the rocks and had to anchor outside of the port. Small boats had to be used to transport the goods and passengers from the big ships to the shore.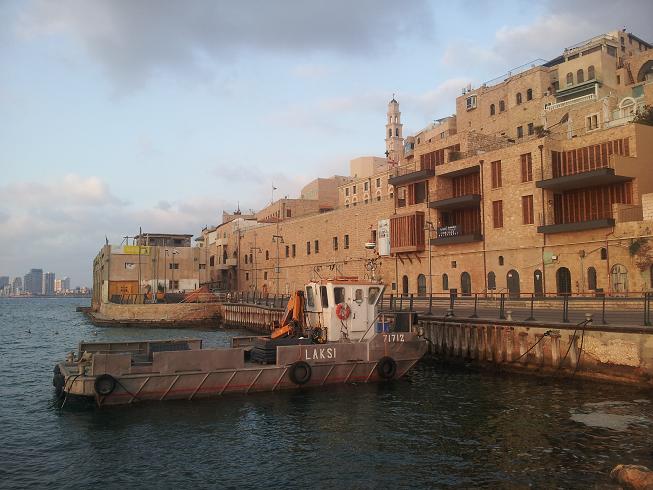 As mentioned earlier, Jaffa's port is small and unimpressive, but in order to understand its charm, one must walk to the end of the dock. Don't look toward the sea, the direction to which your eye is naturally drawn, but rather, to the east, to the interior, to the city on the hill, the place where yearnings, hopes, wishes, and deep religious feelings collide with reality.
The view has remained mostly the same, because Jaffa's port hasn't undergone any significant changes. In the 1920s, the British decided to build a modern port in Haifa. This decision sealed the fate of the Jaffa Port, and its importance declined. But something good came out of this: Haifa's modern port facilities block off and pollute the city, whereas the small Jaffa Port has become a pleasant place featuring quaint alleyways and charming restaurants.
Like what you're reading? Great! This post is part of my Tel Aviv booklet. If you like what you're reading and are planning to travel to Israel, or if you just want to support me, you can download my eBooks from Amazon, Kobo, Barnes & Noble and Apple iBook. Or order all three booklets from Amazon.
More sights in Tel Aviv:
St. Peter's Church – where Christianity separated from Judaism
Eichmann's Prison Cell
Rabin Square – unimpressive, gray, lacking in history and yet… 
Sarona – from German colony to exclusive shopping center
The American Colony – Mark Twain, Herman Melville and John Steinbeck in Tel Aviv
Bauhaus – a style that defined Tel Aviv
My 6 Most Popular Posts:
For more information about your tour in Israel, check out my travel guide booklets: