Visiting Jerusalem is about so much more than just seeing the Western Wall and the Church of the Holy Sepulchre. It's also about spending time and absorbing this intense city. As you move from one site to another, take the time to sit down and grab something to eat. You'll find some of the best street food here. All of the places I recommend are either in the middle of the city or in the Old City, so you won't have to go too far.
In the Old City
Abu Shukri  Hummus
Address: In the Old City, Ha-Gai (EL Wad) 63
Whether you started your day at the Mount of Olives and entered the Old City via the Lion's Gate, or were just wandering around the Old City, you will find this famous hummus joint the perfect place to sit. Enjoy one of the best hummus places in Jerusalem and relax. It is located across from the 5th Station of the Via Dolorosa on El-Wadi Street in the Muslim Quarter. NIS 40–50 for hummus, pita bread, salads, and a cold drink (don't order a Coke; try the lemonade with mint instead!).
Lina  Hummus
Address: In the Old City, El-khanqa 42
Not far from the 8th Station of the Via Dolorosa, in the Christian Quarter, you will find this great hummus, which has been made here for three generations. Because it's 150 meters away from the Via Dolorosa, there are fewer tourists who frequent this hummus place.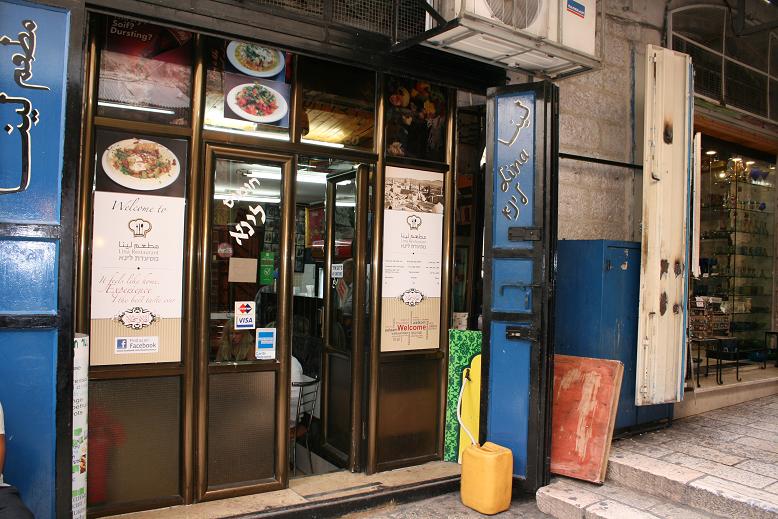 Fast Food Places in West Jerusalem Close to Jaffa Road
Hummus Ben Sira
Address: Ben Sira 3
Most of the famous hummus joints in Israel are owned by Arabs. This place proves that Jews can also make great hummus! This place offers the perfect combination of beer and hummus. This is one of my favorite places in Jerusalem, but beware. After a beer and a bowl of hummus, you will be very tired. It's a great way to finish a long day.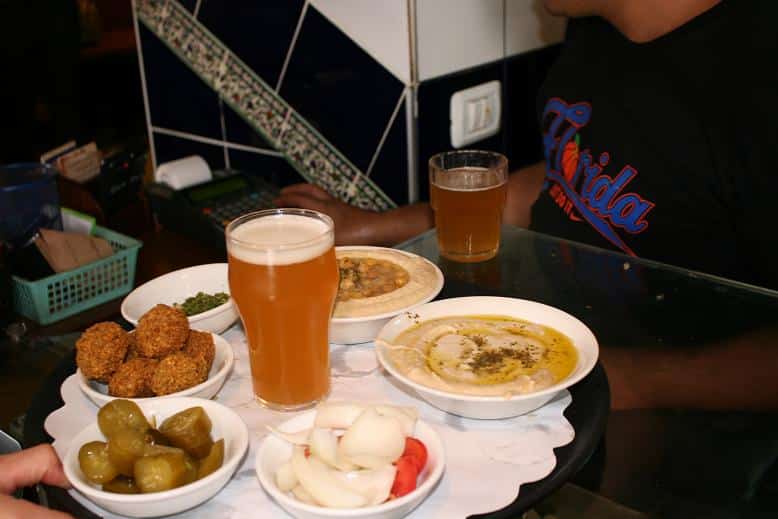 Machne Yehuda Market
Address: Beit Yaakov (Jaffa Road and Agrippas)
The Mahane Yehuda Shuk (Market) is a great place to grab a bite of something not too expensive, from the Iraqi food at Azura, pasta at Pasta Basta, to rugelach at Marzipan, and many other tasty options.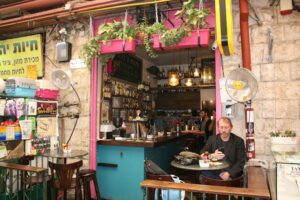 Sabihia
Adrress: Shamai 9
Sabih is originally an Iraqi food. It's a simple concept – a pita stuffed with hummus, tahini, fried eggplant, salad, onion, parsley, and sometimes potato. This is one of the best places in Israel to eat a sabih sandwich.
Café Kadosh
Address: Shlomzion Hamalka 6
How much hummus can a person eat? Sometimes you just want a good coffee and cake, or a fresh salad. Most tourists end up in a café on central Jaffa Road. There's something nice about sitting on Jaffa Road and people-watching – a mix of Jews and Arabs, Haredis and secular Jews. I have yet to find a better place on Jaffa Road. Café Kadosh is one of the oldest cafés in the city, a good place to grab breakfast on the way to the Old City or just to enjoy a coffee with a pastry.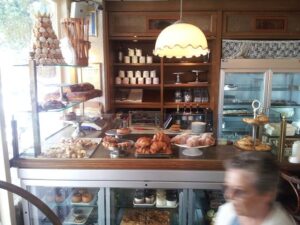 …
If you're planning a trip to Israel and want my team to build you a whole package including luxury hotels, guides and attractions, then you can
schedule a call here
.
If you're traveling on a modest budget, you can also purchase my Booklets, in which I basically wrote down everything that I say on my 3 most popular tours: Jerusalem, Tel Aviv, and the Judaean Desert. I also added maps, pictures and graphics which will enable you to be your own guide. The booklets are only sold outside Israel, so order now and come prepared! Or download as a PDF or EPUB (e-book).
Planning your trip to Israel?
 The Israeli Society
I want my internet site to be the best source of information about traveling to Israel. For that to be the case, I need your help. I want to know what you want to know, so if you have any questions, please write them down here and I will do my best to answer them!