If you're looking for tours in Tel Aviv then you're in the right place!
Taking a tour in Tel Aviv is a great way not only to learn about the history of the city (like most of the tours in Jerusalem) but rather to get a feel for Tel Aviv. These tours are for individual travelers; they are short, two- to four-hour tours, and each one deals with a different aspect of the city without breaking the budget.
In this post you'll find all the information and links you need to decide which tour(s) are best for you.
So, let's get started…
Bike tour in Tel Aviv
One thing I hear over and over from travelers is that they didn't realize how small-scale everything in Israel is. Tel Aviv is the size of a medium neighborhood in one of the big cities of Europe. And the city is flat, making it perfect for a bike tour.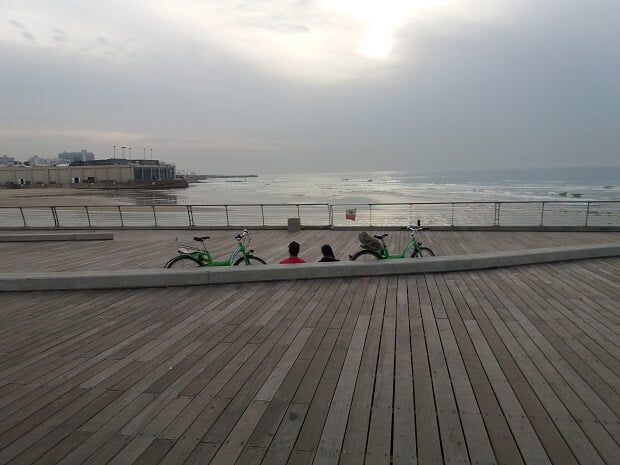 The bike tour starts at Abraham Hostel and goes through the main sites in Tel Aviv: Rabin Square, HaYarkon Park, the promenade, Habima Square, the Independence Hall or the Ben-Gurion House, as well as other sites, depending on the season and the guide.
What I like most about this tour is that it deals with Israel's contemporary history. I often think there's a gap between most of the 'must-see sites' in Israel, which are mainly connected to the ancient history of Israel, and what travelers tend to ask about: the contemporary history of Israel.
This tour is all about modern Israel mainly because, unlike Jerusalem, the story of Tel Aviv is mainly connected to Israeli history: achievements, struggles, and the political and social tensions that exist in Israeli society.
Another big advantage is that you get to see parts of Tel Aviv that tourists don't often see. A lot of independent travelers want to see the 'non-touristy places', but often there's not much to see in the residential neighborhoods, so you don't make it out there. But riding a bike you get to see the places where the people of Tel Aviv live and hang out.
Tour length: 3-4 hours (covering about 5km)
Internet site: Abraham hostel Bike tour
Bauhous tour Tel Aviv
The Bauhaus tour deals with one of the best-known architecture styles in Tel Aviv: the International Style, also known in Israel as Bauhaus. The style began in Germany but was brought to Israel by Jews fleeing Europe, and it had a huge impact on the appearance of Tel Aviv.
The main guidelines were modernism, mass production and functionality; values that matched the modern, socialist view of Tel Aviv and the city's rapid growth. In 1914 there were 3,600 inhabitants; in 1936 the number jumped to 120,000, and by the time Israel was established in 1948 there were 250,000 people living in the city, making Tel Aviv the city with the most Bauhaus buildings in the world.
The Bauhaus Center in Tel Aviv offers only one group tour a week but instead of that you can also go on a self-guided tour. First you see a short film and then you get a map and audio guide and head through the streets of Tel Aviv, seeking out examples of Bauhaus architecture.
Tour length: 1-2 hours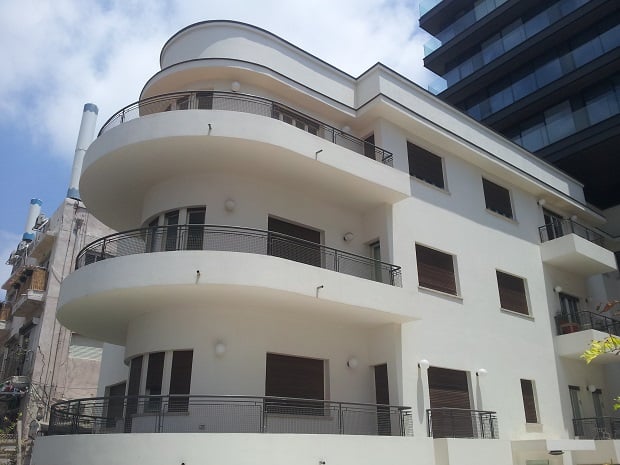 Internet site: Bauhaus center Tel Aviv
Tel Aviv – Jaffa Free tour
The free tour is a basic historical tour of the city. It starts at the clock tower in Jaffa and goes to all the main sites: the port of Jaffa, St. Peter's Church, Summit Garden, Kdumim Square, and the alleyways of Jaffa. The tour deals with the long history of Jaffa, which is one of the oldest cities in the world, from Ancient Egyptian times to Napoleon, from the story of Jonah and the Whale to Peter's vision in the house of Simon the Tanner.
Jaffa was the port city of Jerusalem and the gate to the Holy Land, so learning about Jaffa's history will help you understand all the other sites you'll be visiting.
You'll also hear about contemporary, twentieth-century history on the tour: the British mandate, Adolf Eichmann's prison cell, and the birthplace of Tel Aviv.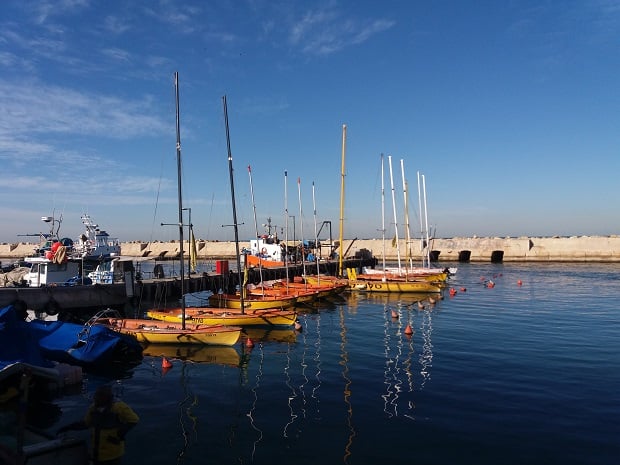 My only problem with the tour is its name. The free tour isn't actually a free tour: it's a tip-based tour. Not only that, the guide has to pay the company for each tourist that joins, so if you do take the tour (and most of the guides are great), make sure you leave a generous tip.
Tour length: 2 hours
Internet site: Free tour Tel Aviv
Graffiti Tour
Like many western cities, Tel Aviv has a vibrant street art scene and the graffiti tour covers just that: street art, graffiti, vandalism and advertising in the southern neighborhoods of Nachalat Binyamin and Florentine.
The walls of Tel Aviv have a story to tell, and in this tour you'll be confronted with some of the political and social tensions that exist in Israel, and, moreover, with the self-expression of some great artists. Your guide will take you to well-known places like Shuk HaCarmel and Nachalat Binyamin, but also to little streets and corners that you'd never find on your own.
Tour length: 2 hours
Internet site: Street art tour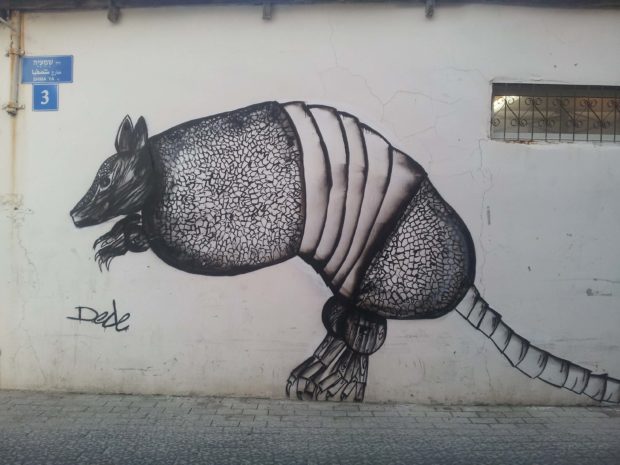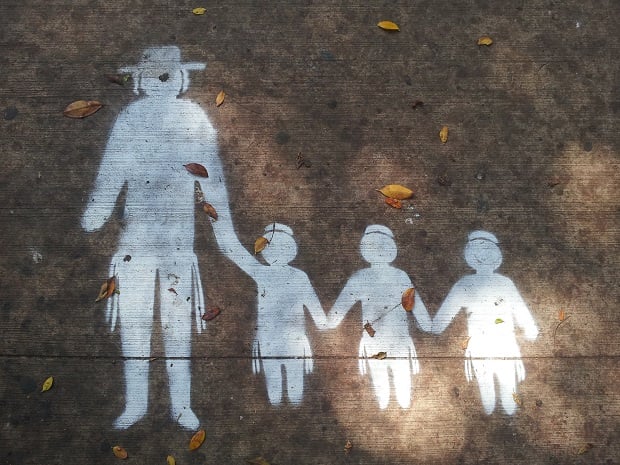 Vegan Tour Tel Aviv
Tel Aviv is known as one of the leading vegan cities in the world. There are a couple of reasons why:
* Tel Aviv is very liberal and very open to new trends.
* Middle Eastern food is based on a lot of fruit and vegetables, hummus, tahini (or tehina), and not too much meat and dairy (seeing as that needs to be kept cool in the very hot weather of the region).
So the transition to vegan food is not that big of a deal. Two of the most common street foods in Israel, falafel and sabich, are almost vegan as they are.
I'm not vegan and I was surprised to find that most of the participants on the tour weren't vegan either. I was really happy to discover that this wasn't a mission to make the group vegan, but more of an introduction to vegan food, ideas and lifestyle.
The main focus is on the food, so make sure you come hungry in order to enjoy it all. On the tour we visited three restaurants, each one with a different background and concept but all offering great food.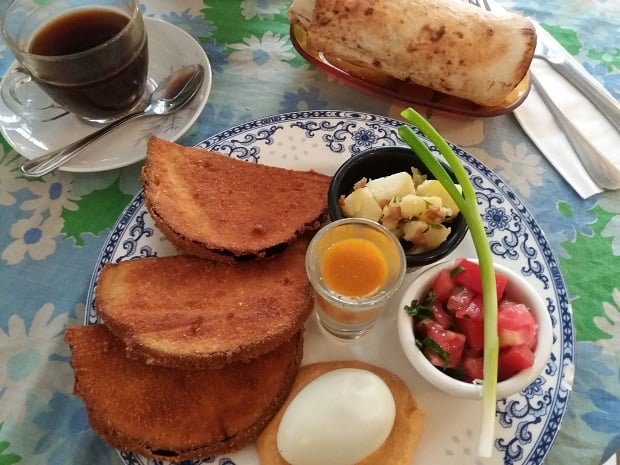 Tour length: 3 hours
Internet site: Vegan Tour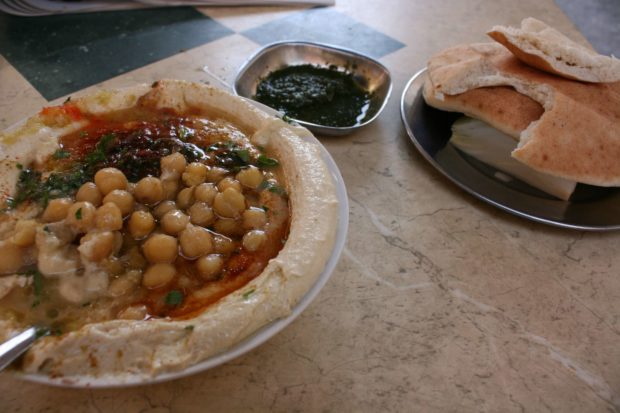 Pub crawl Tel Aviv
The slogan of Tel Aviv is 'the city without a break' (often translated as 'the city that never sleeps') and, unlike other slogans created to sell the city to tourists, in this case it's totally true.
Ask any Tel Avivian! Or head to Rothschild, Allenby, Dizengoff or Herzl in the middle of the night, even in the middle of the week, and you'll find people sitting outside, eating, drinking or walking their dogs at 3am.
Another great thing about Tel Aviv's nightlife is that it's very laidback. Maybe it's the hot weather, maybe it's the Mediterranean influence, or maybe it's the direct, warm Israeli approach that makes the nightlife so easygoing and fun.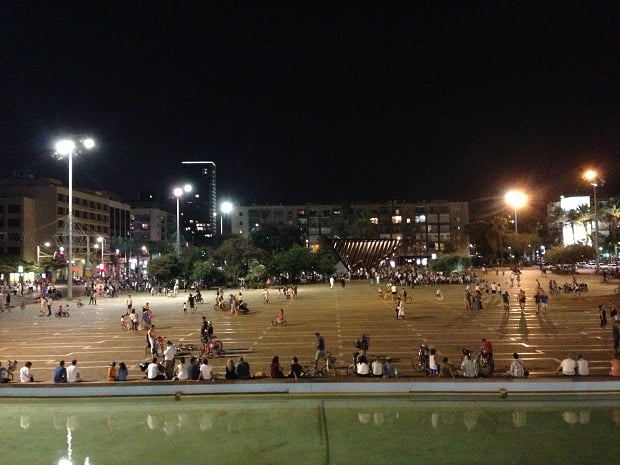 The pub crawl starts at the pub inside the Abraham Hostel and continues to some of the bars and clubs around Rothschild. I can particularly recommend doing this tour on the weekend (Thursdays and Fridays), when the queues are long and you get to go straight in.
Tour length: 3 hours (or more)
Internet site: Pub Crawl
…
If you're planning a trip to Israel and want my team to build you a whole package including luxury hotels, guides and attractions, then you can
schedule a call here
.
If you're traveling on a modest budget, you can also purchase my Booklets, in which I basically wrote down everything that I say on my 3 most popular tours: Jerusalem, Tel Aviv, and the Judaean Desert. I also added maps, pictures and graphics which will enable you to be your own guide. The booklets are only sold outside Israel, so order now and come prepared! Or download as a PDF or EPUB (e-book).
Planning your trip to Israel?
 The Israeli Society
I want my internet site to be the best source of information about traveling to Israel. For that to be the case, I need your help. I want to know what you want to know, so if you have any questions, please write them down here and I will do my best to answer them!