Every time I find myself in an Abraham hostel, I think to myself: they're the best!
Abraham Hostels in a nutshell:
They have four hostels in four different cities: Jerusalem, Tel Aviv, Eilat and Nazareth. All offer dorms and private rooms.
Abraham Tours offers tours that start from the hostels. (Including tours to Jordan.)
Abraham Hostels are great for first-timers, people who are traveling alone, and those who have concerns about traveling to Israel.
Get a 5% discount when you book hostels and tours by using the code 555oren. Or even better! Get a 10% discount code by purchasing my app, 'Jerusalem with Oren', which has all my tours, recommendations and tips.
The average price for a hotel room in Israel is $240 a night… and I think it's fair to assume that most of you will want to pay less than that.
Abraham Hostels also offer tours and tour packages, so they are perfect for people traveling alone or those who might have concerns about their trip to Israel but don't want to join a package tour.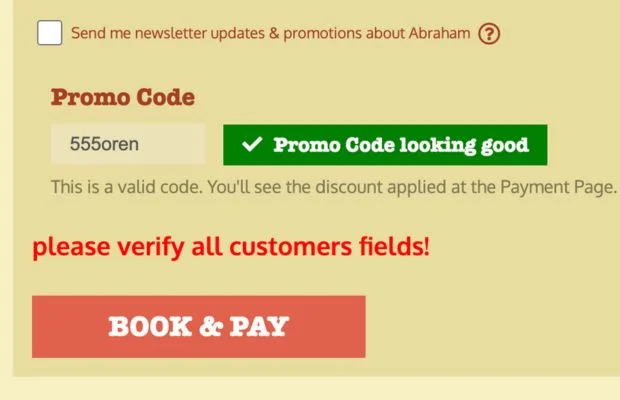 I sleep in hostels almost every week. Most of them are fine – they're clean and they do the job. Indeed there aren't many I wouldn't recommend.
But what I will say is that very few of them have succeeded in creating a nice hostel vibe like you find in the Abraham Hostels.
Abraham Hostel Jerusalem
Abraham Hostel Jerusalem was the first big, modern hostel in Israel. And I recommend this place as your first stop in Israel.
With the new train, it's easy to get to Jerusalem, and the hostel is located next to the Ha Davidka light rail station.
It is a minute's walk to Machne Yehuda market and a 15-minute walk or three light rail stations to the Old City. There are dorms and private rooms.
As well as having a reception that is open 24/7, there is also a kitchen where you can cook your own food and big communal spaces.
The staff here are really helpful and you'll find they're even willing to help you plan your trip. You can also enjoy the events and shows they put on and get drinks at affordable prices in their bars.
The only fault I can find is that some of the dorms are a bit old-fashioned and you don't have a curtain around your bed for privacy.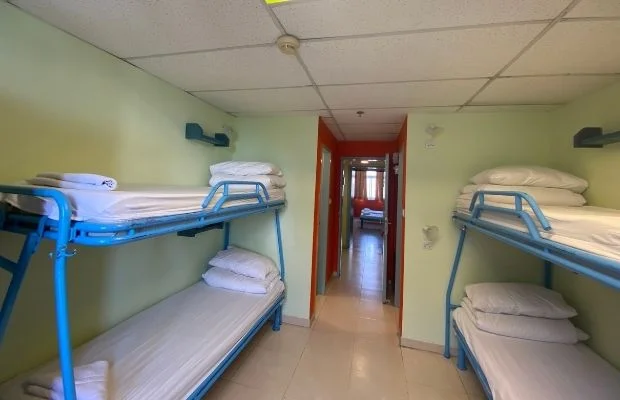 Tours from Jerusalem
The hostel proposes a whole range of tours starting from Jerusalem.
There are tours around the city of Jerusalem itself, like the Old City tour, the Mount of Olives tour, the Shabbat tour, the Meet the Ultra-Orthodox Jews tour, as well as tours outside Jerusalem.
The most popular tours take you to Masada and the Dead Sea and to Jordan. While I can certainly recommend taking their tours, I also highly recommend purchasing my app, 'Jerusalem with Oren'. Not only will you get all of my tours, recommendations, and tips, but there is also a 10% coupon code for all of the Abraham Hostels, as well as their tours and packages, which could end up saving you a great deal of money.
Abraham Tours don't provide guides on their tours. If you book a tour to Masada, which you really should do, you can purchase my Masada video tour, which will lead you through the site and reveal its dramatic history.
Masada Sunrise Tour from Jerusalem
Masada, Ein Gedi and Dead Sea Tour from Jerusalem
Abraham Hostel Tel Aviv
The Abraham Hostel Tel Aviv is newer than the one in Jerusalem, and they essentially copied the hostel in Jerusalem but made everything newer and better.
The fantastic rooftop chillout area adds to the appealing atmosphere, and there are lots of different dorms and private rooms to choose from.
The location is second to none, just next to to Rothschild Boulevard, but if you're coming from the central bus station or HaHagana train station (which are next to each other), then you will need to walk through the not-so-great part of the city to get here, and it isn't a good idea for female travelers to walk through that area alone. Especially at night.
Your alternatives are taking a taxi from the central bus or train station, or, if you're arriving by train, getting off at the next station, which is HaShalom, and walking about half an hour back to reach the hostel.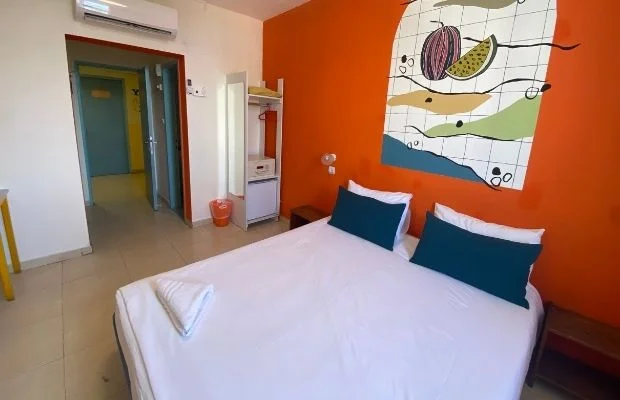 Tours from Tel Aviv
As you might expect, the tours this hostel offers are mostly confined to Tel Aviv – the Jaffa tour, the Graffiti tour, cooking workshops in Tel Aviv – but there is also a tour to Caesarea.
They do have tours to Masada from Tel Aviv, but they involve spending a lot of time sitting in the vehicle on the way there and back. However, if you only want to sleep in Tel Aviv, it is doable. There are also tours to Jordan.
There are many reasons why I recommend their tours.
One is that Abraham Tours picks up its tourists at the hostel and just goes. Most companies offering day tours pick up tourists from loads of different hotels, meaning you might spend an hour picking up and returning each person to their hotel.
And Abraham Tours doesn't stop off in tourist shops either. The only thing is that they don't provide actual guides on their tours.
Abraham Tours does offer tours to Jordan, with guides, and you have the option of upgrading your accommodations.
I did some private tours with people who were sleeping in luxury hotels in Israel and when they took the Abraham tour to Jordan, they were really satisfied. Just because it's a tour company run by a hostel, that doesn't mean the tours can't compete with the more expensive ones.
Masada Sunrise Tour from Tel Aviv
Masada, Ein Gedi and Dead Sea Tour from Tel Aviv
Get a 5% discount when you book any Abraham hostel or tour by using the code 555oren. Even better! Get a 10% discount code by purchasing my app, 'Jerusalem with Oren', which has all my tours, recommendations and tips.
Abraham Hostel Eilat
This is the newest hostel as well as the biggest. It is located next to the central bus station, about 15 minutes' walk from the beach.
The most important thing I have to say about this hostel has nothing to do with the hostel itself but with the city.
If you want to enjoy Eilat, try not to visit on weekends (Thursdays to Saturdays), on Jewish holidays, or in July and August.
The best time to visit is from November to April in the middle of the week. You'll be able to enjoy the warm sun and beaches that aren't too busy.
Tours from Eilat
Israelis see Eilat as a relaxing vacation destination, where you don't do very much. But there is actually a lot to see. There are diving tours, as well as tours to the Eilat Mountains and to Timna Park. Eilat is also a good starting point for tours to Petra.
Abraham Hostel Nazareth
This was the first hostel to be opened by Maon Inon, one of the owners of the Abraham Group, when he came back from a long trip abroad.
A small hostel located in an old house in the center of Nazareth, this is a great place to stay if you want to explore the Galilee. There are some tours around the city itself but if you prefer hiking then you can do the Jesus Trail.
Abraham Tour Packages
Since they have hostels and tours, they also propose packages that combine both.
This is the best option for people who don't have time to do their own planning or are a bit concerned about traveling to Israel. You will be in safe hands, with some free time to yourself, and it will be much cheaper than joining a group tour.
If you're visiting Israel for ten days, you could opt for an initial 5-,6- or 7-day tour package, allowing you to get a feeling for Israel and build up your confidence, and then you can spend the rest of your time doing your own thing.
If you do plan on buying a package, you'd be wise to purchase my Jerusalem app, as it includes a 10% discount code, allowing you to save yourself more money than the cost of the actual app. (You will of course also get to enjoy all my great Jerusalem tours.)
So, that's it. The 5% discount code for all their hostels, tours, and packages is 555oren. Get my app, 'Jerusalem with Oren', which has all my Jerusalem tours and recommendations, and you will get 10% off all Abraham tour and hostel packages. Get my app, and your life will improve!