If you're planning a trip to Israel or just want to learn more about the country then you're in the right place!
My name is Oren, I'm a professional Israeli tour guide and I want to change and improve the way travelers experience Israel.
Sale! Get all my Jerusalem tours for two devices for $39 only!
My site is divided into these sections:
How to plan your trip to Israel?
Since a trip is often a unique, once-in-a-lifetime experience, planning it the right way is super important.
Although today it's easier than ever to be spontaneous and change your plans, in my experience it's those who plan their trip well who enjoy more and pay less.
Here I've included a few really important tips, all you need to know about flying to Israel and its airport, basic itineraries, recommended tours, hiking, and much more.
Recommended hotels and hostels in Israel
Check out my new post about special accommodation in Israel!
Booking hotels and hostels is a seemingly simple business: there are thousands of recommendations online.
Yet I chose to write about booking accommodations in order to address a few important issues that people often aren't aware of when they book:
There's no such thing as THE BEST hotel. It's all about what's right for you. And I'm not just talking about your budget. Let's say you're looking for a hotel in Tel Aviv. What is important to you? Do you want to see the sea from your room and be right on the promenade? Do you like markets and prefer to be close to the flea market? Or do you see Tel Aviv as a base for other tours and prefer to be close to Ayalon (the main highway that goes through Tel Aviv)?
Even if you spend the whole day sightseeing, you'll spend quite a bit of time in your accommodations. If you choose to sleep outside the cities, in the Negev or the Galilee, I recommend trying different types of accommodations, such as 'Chavot Bodedim', which means "lonesome farms" (or a farm in the middle of the desert). Or you could go for 'Airuach kibbutzi', which means sleeping in hotels in kibbutzim.
Hotels in Israel are expensive. This is the main complaint I hear from travelers, who often say they expected more, given the price they paid. This is why I've also provided a fair amount of information about hostels, which in recent years have gotten a huge boost. There are hostels you could easily mistake for a boutique hotel rather than a cheap accommodation option. Most of them offer private rooms, so you pay half what you would at a 3-star hotel and get much more.

In the desert, on the way to Eilat, you will find lots of special accommodation options, such as this one – beautiful mud huts in Tzukim.
Check out my new post about special accommodation in Israel!
Israel travel guide – booklets and video tours
My pride and joy! At the end of the day, I'm a tour guide. I can help you with tips or choosing a hotel or hostel, but my real passion lies in bringing the history of Israel to travelers in an interesting way.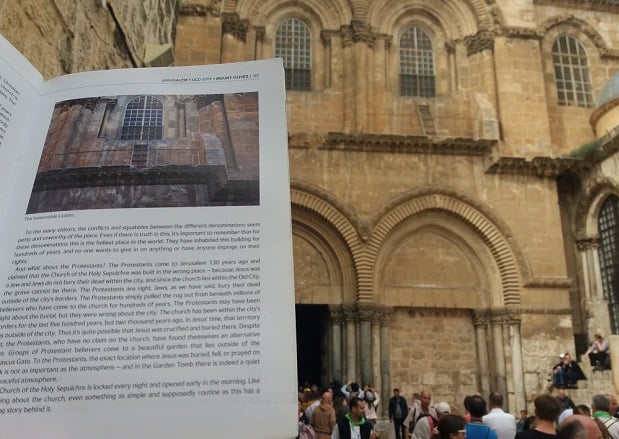 Israel is the place where Europe, Asia, and Africa come together. This is also where Christianity was founded and where Judaism developed.
The list of historical figures who have walked over this very piece of land contains great names that have shaped the history of the Western world: Abraham, King David, Jesus Christ, Alexander the Great, Richard the Lionheart, Saladin and many more.
The problem is that many of the sites are not impressive in themselves. The Wailing Wall is just a wall, and in Europe there are a thousand churches that are more impressive than the Church of the Holy Sepulchre.
Without understanding what you're looking at, you will get a lot less out of your trip.
As of today, I've written three booklets, in which I've basically included everything that I say on my three most popular tours: Jerusalem, Tel Aviv, the Judaean Desert (Masada and the Dead Sea).
By purchasing my booklets and video tours you'll definitely get much more out of your trip. You'll also be allowing me to upload more content about Israel. The booklets are only sold outside Israel, so order now and come prepared!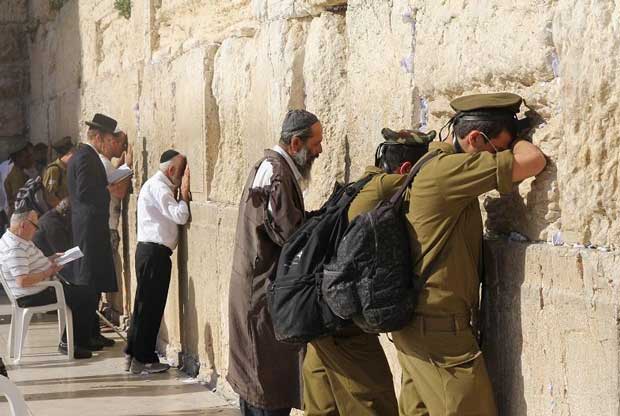 The Western Wall. One of the most important Jewish sites. Are you impressed? Probably not. Without understanding what you see, most of the sites in Israel aren't particularly impressive.
Traveling to Israel? Contact me
The purpose of this website is to help you plan your trip to Israel, not to promote myself as a tour guide.
I do, however, offer tours in Jerusalem and a one-day tour in the Negev desert. If you would like to hire me for a private tour, please contact me here.
If you have specific questions, please write them under the relevant post so that others can benefit from reading them. Feel free to write any kind of comment: the only way for me to know how to improve is if you tell me.
See you in Israel!