There are different types of accommodation in Israel, some the same as in other countries and some unique to Israel. One thing that characterizes all of them is that they are usually more expensive than you would expect. If you've ever stayed somewhere and come away with the feeling that you paid a bit more then it was worth, then welcome to the club… The average price of accommodation is $240 per night, but there are of course many cheaper options. This post is intended as a practical guide for travelers and not a meditation on the Israeli tourist industry, but I will just say this: the blame lies principally with government taxes and regulations and not with the greed of hotel proprietors, who actually earn less than their equivalents in other countries. Now back to the matter in hand:
Camping
The cheapest option is camping. In the desert and in Galilee there are designated places where you can pitch your tent for free. In most of these places there are no facilities. There are also campsites that you have to pay for and these are fully equipped.
Hostels
There are three different kinds of hostel in Israel. The oldest one is ANA, the Israel Youth Hostel Association. Their hostels are generally located in cities. To be totally honest, I can't recommend staying in their hostels since they're popular with schoolchildren and not really intended for independent travelers. There are better options to be had in the cities. The ANA Masada Hostel, at the foot of Masada, is their best hostel because it stands in a location that is perfect for those wanting to ascend Masada before sunrise. Another chain of hostels belongs to the Society for the Protection of Nature in Israel (SPNI). They have nine field schools (in Hebrew they are called Beit Sefer Sade – Israelis don't know them by the name SPNI) offering functional rooms. The facilities may be simple but the teams working there are usually able to recommend walking trails and give guests plenty of information about the natural surroundings. Sometimes groups of schoolchildren stay, meaning it can get noisy, but staff members try to keep children and travelers separate. For me, staying in an SPNI field school always brings back happy memories of traveling as a kid, but I recommend them to others because they're located close to nature trails and your money goes toward protecting Israel's natural heritage. Their website is http://natureisrael.org/FieldSchools
The third option, and the most suitable for independent travelers, is the hostels listed under ILH (Israel Hostels – Independent Travelers Accommodation). They are not a chain but an organization of independent hostel owners. They are very different from each other but all have cooking facilities, free wifi and, most importantly, no schoolchildren running through the hallways. I wrote about some of them here: Best hostels in Jerusalem and Best hostels in Tel Aviv.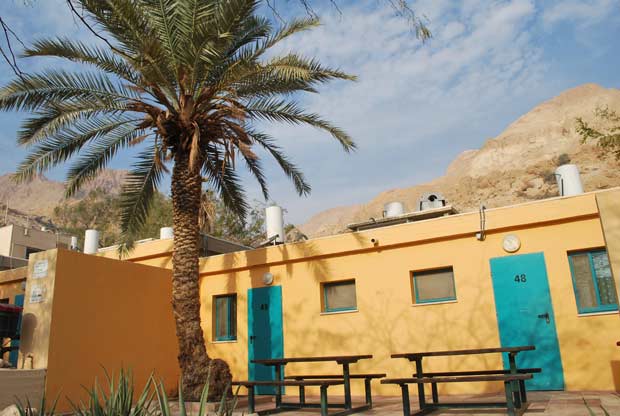 Zimmerim
Zimmerim are vacation cabins located in villages, for the most part in the north and the south of Israel (not in the cities). The term itself – Zimmer – means "room" in German and the ending "–im" is the masculine plural in Hebrew. The cabins probably took on the name because Israelis who had travelled in Germany, Austria and Switzerland had seen signs for "Zimmer frei" (rooms available). Zimmerim came into being in the nineties, when a dramatic rise in the price of water made agriculture less profitable and farmers were obliged to look for other sources of income. It suited more and more Israelis, who were wanting to vacation in rural areas and looking for an alternative to big hotels. Some translate zimmerim as "B&B" but there are some differences. In most zimmerim breakfast is not included, and in B&Bs sometimes you are hosted inside the host family's house. The zimmerim are always private cabins or rooms with a separate entrance. There is a very wide range of zimmerim. From a small room in the garden with views onto the neighbor's kitchen to luxury cabins with wonderful views. In the weeks to come I'll be writing about my recommendations.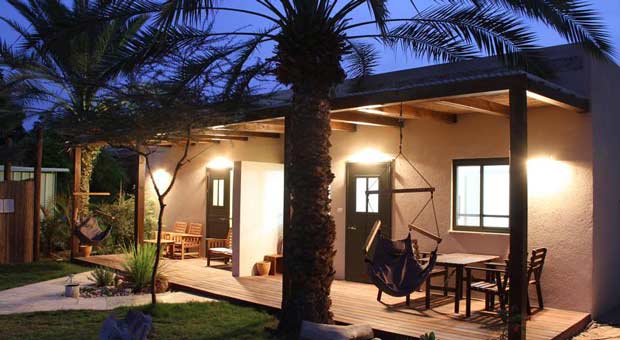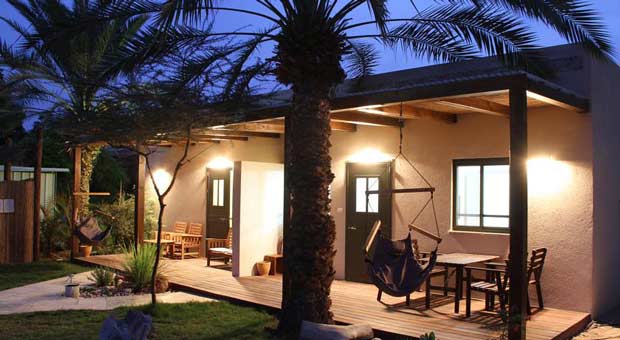 Airuach kibbutzi
The kibbutzim, like the moshavim (villages), were also badly affected by the agricultural crisis and took the step of adding extra accommodation to the kibbutzim. They usually have a few dozen rooms, making this a good option for groups that want to stay together. In some kibbutzim the accommodation area is separated from the kibbutz itself and sometimes it is part of it. The rooms are never luxurious and sometimes they leave a lot to be desired (it is a kibbutz, after all). Although most kibbutzim are no longer communal, the structure of the kibbutz, with its small private houses and large community buildings, all built close together, as well as its agricultural structures, still stands as a memorial to the values it used to represent.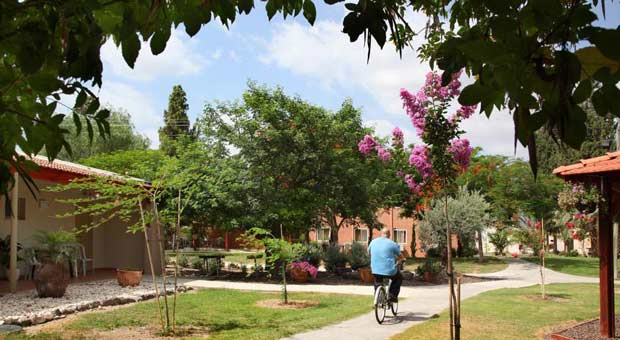 Airuach kibbutzi – Shaar Hagolan
Chavot bodedim
Havot bodedim literally means "lonesome farms". Most of the farms were established in the nineties and are run by a single family that owns a lot of land (in Israel "a lot" means more than a few hectares). Many of them grow wine grapes and olives and some make cheese. Most of them have 2-3 zimmerim and include breakfast on account of their remote location. They are not cheap, starting at around $150 per night, but personally I like them and the money goes to individual families.
Boutique hotels
If zimmerim were the hot new thing in the nineties and chavot bodedim came into their own at the beginning of 2000, the latest trend is boutique hotels. Tel Aviv is of course leading the trend (some of its hotels have won international prizes) but there are also some in Jerusalem and the north. The hotels are usually housed in beautifully renovated buildings in very good locations and great attention is paid to the smallest details. Some of them might make you feel as if you're staying the night in an art museum. Prices start at $250 and can easily reach $500 per night; more for the suites.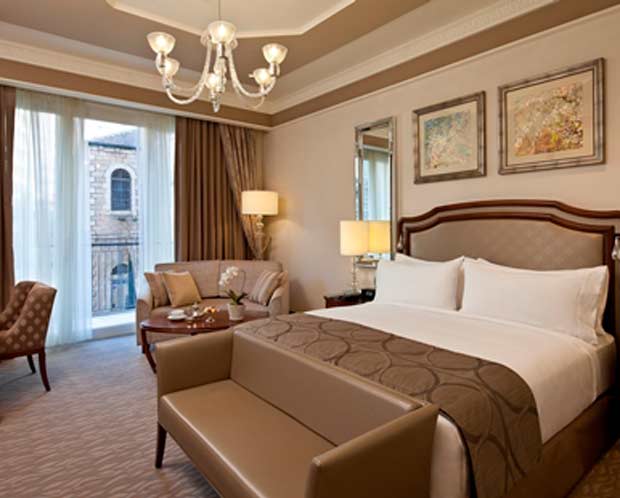 Related posts:
The top Hostels in Tel Aviv
The best Hotels in Tel Aviv
Special Guest Huses in Jerusalem
The top Dead Sea Hotels
Budget Accommodation in the Judaean Desert