Booking a hotel or hostel has never been so easy, but I decided to write this accommodation guide because there are some important things you need to know about getting a roof over your head in Israel:
One of the biggest expenses when traveling is hotels, and this is particularly true of Israel.
Hotels are uncommonly expensive here (the average price of a hotel is $240 per night). Many travelers complain that they would have expected more for the price they paid.
This is why I've added a budget option in each area: these are hostels and Camplodge, many of which also offer private rooms.
When you sleep outside the cities, in the Negev or the Galilee, I recommend that you go for a different kind of accommodation, such as chavot bodedim, which means "lonesome farms", or airuach kibbutzi, which involves sleeping in hotels in kibbutzim.
There is no such thing as THE BEST hotel. It is all about what is right for you and a random recommendation won't give you the information you need.
I'm not just talking about the budget. Let's say you're looking for a hotel in Tel Aviv.
What is important to you?
Do you want to be able to see the sea from your room and be located right on the promenade?
Do you like markets and want to be a stone's throw from the flea market? Or do you see Tel Aviv as a base for other tours and prefer to be close to Ayalon (the main highway that runs through Tel Aviv)?
There are loads of great hotels that didn't make it onto this list, as I'd rather give three options than, say, eight. Also, more importantly than that, I've focused on the special options and not the many perfectly good yet standard hotels.
At the end of the day, you spend quite a lot of time in your accommodation, and you almost always eat there, so it should be good.
My list is made for what we refer to as F.I.T.s (foreign independent tourists). For business people, Israelis or groups, I would have other options.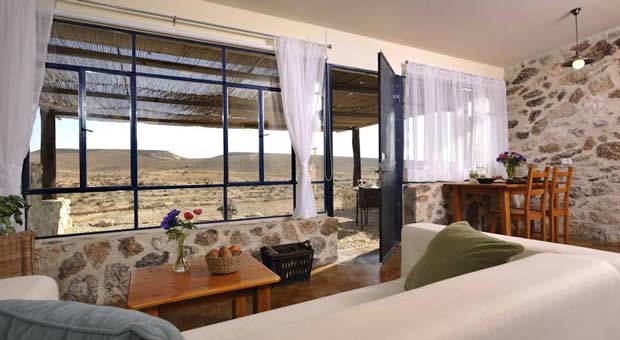 I've also written about places that are usually beyond the reach of the average foreign tourist, so check to see where you're located on the map at the end of each section.
Full disclosure
Rather than hiding this piece of information away somewhere at the end of the post, I want to clearly lay my cards on the table here.
If you choose to book via some of the links I've included here, I'll get a small commission.
You'll pay exactly the same.
The only way for me to continue uploading content and keeping the site free of annoying commercials is to ask you to purchase my booklets and my app and to book your hotels and hostels through my website.
I would appreciate your doing so!
I've already written posts about hotels and hostels in Jerusalem, Tel Aviv and the Judaean Desert so I've only written about them briefly here in order to give you an overview. You will see that I've written in more detail about the Galilee, the Negev and the Golan Heights.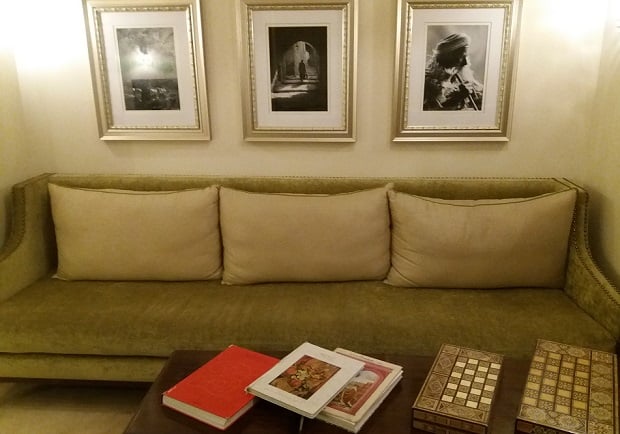 Arthur Hotel, Jerusalem. At the end of the day, you'll be spending a lot of time in the accommodation you choose. It had better be good!
Hotels and hostels in Jerusalem
Jerusalem is a complex city in every respect except accommodation.
The city center is small and all options, from five-star luxury hotels to hostels, are located within walking distance from the Old City and the city center.
I've written about it here – Best hotels and hostel in Jerusalem
Here is a short summary:
5-star hotels – King David, Mamila ($500 and up)
Boutique hotels – Arthur Hotel, Harmony ($250 and up)
3-star hotels – Montefiore Hotel, Eyal Hotel ($200 and up)
Hostels – Abraham Hostel, Post Hostel, Stay Inn ($30 and up)
If you plan on booking a room in a hostel, be sure to download my app. I have added coupon codes for all of the Abraham hostels and tours (Jerusalem, Tel Aviv, Nazareth and Eilat) as well as the Post Hostel.
Hotels and hostels in Tel Aviv
In Tel Aviv you need to ask yourself how important the beach is to you.
If the answer is "very", then choose a hotel on the promenade: on HaYarkon Street or Herbert Samuel Street. Most of the hotels located right on the beach belong to the big hotel chains.
The last fifteen years or so have seen a lot of small boutique hotels open up in Tel Aviv. They are usually housed in beautifully renovated buildings to be found in very good locations. They tend to have a unique design concept and great attention is paid to the smallest of details. Prices start at $250 and can easily reach $500 per night; more for the suites. The full post here –
Here is a short summary:
5-star hotels – Kempinski, Dan Tel Aviv
High end Boutique hotels – The Norman,  Setai Jaffa
3-star hotels – Cinema, Prima Tel Aviv
Hostels – Abraham hostel, The Spot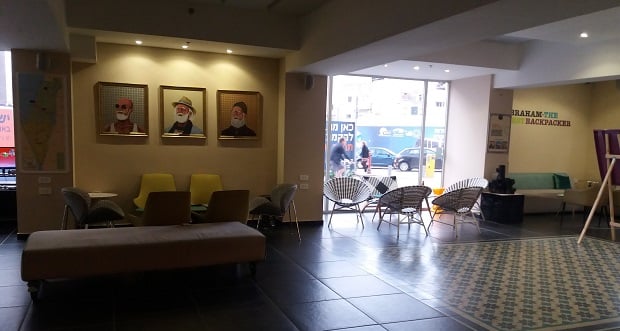 Abraham Hostel, Tel Aviv. Looks better than many hotels.
Accommodation in the Judaean Desert
All of the sites in the Judaean Desert can be visited in a day trip from Jerusalem, but I'd recommend staying overnight in order to enjoy the scenery.
If you go in winter when it's nice and warm, you can take an extra day to relax in the Dead Sea. All options to be found here –
Accommodation in the Judaean Desert
Here is a short summary:
5-star hotels – Nevo by Isrotel
3-star hotels – Isrotel Ganim
Hostels – There are no 'classy hostels' but there are a few budget options. In some places you can also pitch a tent. Try Metzoke Dragot, Shkedi's camping lodge or the Masada and Ein Gedi youth hostels.
Hotels and hostels in the Galilee
In the Galilee you will find different sleeping options and different kinds of scenery.
From cities like Haifa and Acre with their Mediterranean views, to the kibbutzim of the Jezreel Valley, to the luxury spa resorts and hotels close to the Sea of Galilee.
A very good friend of mine called Avirama Harris, who is a tour guide specializing in the Galilee area, helped me with this list.
If you plan on visiting Acre, Nazareth or the Sea of Galilee and want to know more about the history and people of the area, I highly recommend you get in contact with her.
Hotels and hostels along the coast
On the way to the north, in Zikhron Ya'akov, is a luxury art hotel called Elma: art fans should check it out.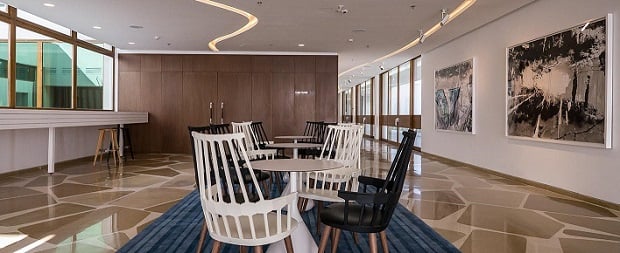 Another luxury option on the route north is the Carmel Forest Spa Resort, just before Haifa. Prices start at $400 per night. If you've just left Tel Aviv or Jerusalem and are looking for a quiet, green place to relax, this is it.
Accommodation in Haifa
If I had to choose between Haifa and Acre, I would go for Acre and just spend half a day in Haifa. But if you don't want to rush and are starting your day in Tel Aviv, then a night in Haifa is a good option.
A further advantage is that you can expect to pay a lot less for accommodation in Haifa than in Tel Aviv, so you might decide to spend the day in Tel Aviv and head north in the afternoon. I like to recommend Schumacher Hotel and the Colony Hotel.
Haifa Hostel is a really good budget option with a great location.
Accommodation in Acre (Akko)
The Old City of Acre is very small but it has all the options you need.
The high-end Hotel Efendi is in a beautiful house that has been renovated. Mid-range options include the beautiful Arabesque boutique hotel. And for budget travelers there is the Eco Akko. I love all three options here.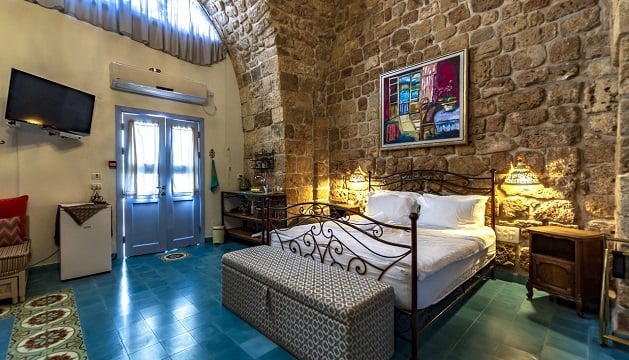 Hotels in the heart of the Galilee
In Nazareth I can only really recommend these budget to mid-range options in the Old City of Nazareth: Fauzi Azar Hostel and Al Hakim Guest House.
If you want to enjoy views over the Jezreel Valley, I can recommend the Holiday Village Kibbutz Mizra.

Fauzi Azar Hostel. A nice hostel in the Old City of Nazareth.
Hotels around the Sea of Galilee and Upper Galilee
In this region it's hard to get around without a car outside of Tiberias.
The best hotels around the Sea of Galilee are Magdala and Gomeh.
Right on the shore, Kibbutz Ein Gev is a good resort with cabins offering sea views.
In Tiberias is the historical Scots Hotel, while for those on a budget there is the Tiberias Hostel as well as the David Hostel. In Tiberias you have all the car rental companies so it's a good place to get organized for a trip to the Galilee and Golan Heights.
The best luxury hotel in the Upper Galilee is the Mizpe HaYamim organic spa resort.
Galilion is a nice place located between the Sea of Galilee and the sites further north (Banias, Dan, the northern part of the Golan Heights).
Of the kibbutzim up north, I like to recommend Hagoshrim and the Pastoral Hotel at Kfar Blum.
Hotels and hostels in the Golan Heights
The Golan Heights has some decent accommodation options. Because the Hermon Mount is the only mountain in Israel with a snowy peak, the prices in winter are not necessarily lower than those in summer.
There is only one hostel in the Golan and it is really great (although very far north) – the Golan Heights is located in a village called Odem. A great place for nature lovers.
In the southern part of the Golan there are plenty of places offering beautiful views of the Sea of Galilee. I like to recommend Ramot Resort, The White Chalet View in Ramot and Peace Vista in Kfar Haruv.
In the northern part of the Golan Heights there are two places I like to recommend: Merom Golan and Kibbutz Ortal, which is still a communal kibbutz as well as being a lovely place to stay that offers great value for money.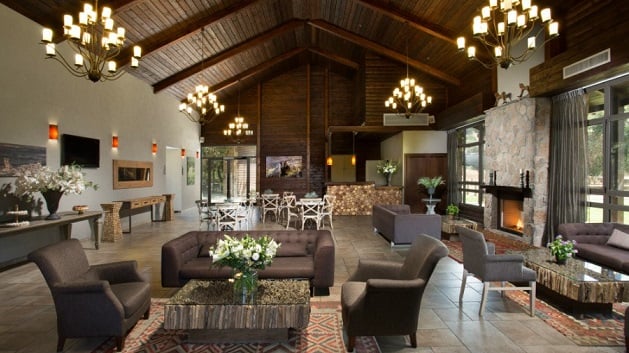 A map with all my Galilee recommendations ($ – Green, $$ – Blue, $$$ – Purple):
Accommodation in the Negev Desert
The Negev Desert takes up 50% of Israel, so there is a lot to cover. I'll start in the north and work my way down to the south.
Hotels around Sde Boker and Mitzpe Ramon
Although Be'er Sheva is considered to be the capital of the Negev, skip it and head straight to the Sde Boker and Mitzpe Ramon area.
I always recommend Mitzpe Ramon, whether you're traveling in summer or winter, on a low or high budget, with or without a car. It's a small town with a perfect location right on the Ramon Crater, with all the facilities and activities that travelers need.
If you want the best, then Beresheet Hotel is the only option. A luxury hotel in the perfect location. Prices start at around $450.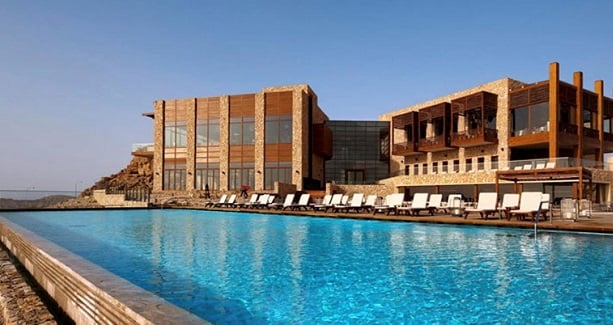 Beresheet Hotel. Luxury on the edge of the crater.
For mid-range accommodation I like to recommend:
IBIKE – As you can tell from the name, this hotel was built for people looking to cycle around Mitzpe Ramon, but it's also a great option for non-cyclists. Prices start at $130.
InnSence – A good B&B with a nice restaurant. Clean modern design. Prices start at $130.
The Alpaca Farm – Situated 4km from Mitzpe Ramon, it is home to lots of lovely animals, like alpacas and llamas. It's a great place for children but also for couples. Prices start at $190.
There are two low-budget places I like to recommend:
Silent Arrow – If you have a car then I can highly recommend this place. On the outskirts of Mitzpe Ramon, this is a small place with private domes and dormitory tents. The perfect budget option for desert lovers.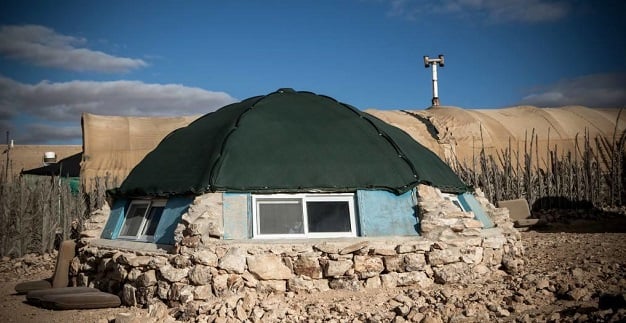 Silent Arrow. I love this place, but just remember that it gets very cold at night.
Another great budget option is the White Hill hostel in Yerucham. Yerucham is located next to the big crater, about one hour's drive north of Mitzpe Ramon.
Chavot Bodedim around Sde Boker and Mitzpe Ramon
Chavot bodedim literally means "lonesome farms". Most of the farms were established in the nineties and are run by single families who own a lot of land (in Israel "a lot" means more than a few hectares).
Many of them grow wine grapes and olives and some make their own cheese. Most of them have 2-3 zimmerim and include breakfast on account of their remote location.
They are not cheap, starting at around $150 per night, but personally I like them. The money goes to individual families and you can feel the desert as soon as you open the door.
Many of them are located north of Mitzpe Ramon, around an hour and a half's drive south of Tel Aviv and Jerusalem.
Naot Farm – The farm is located ten minutes' drive from Sde Boker, so from Tel Aviv it really doesn't take you long to get to the desert. Unlike other farms that only have cabins, here they also have simple mini rooms rather like a hostel.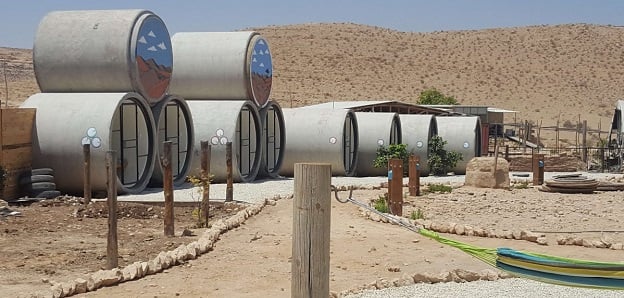 All the chavot bodedim are great. At Naot Farm they also have the Tube Hostel for budget travelers.
Succah In The Desert – An eco-farm 8km from Mitzpe Ramon. This place is not for everyone. You need to arrive before it gets dark as there are no lights. Nor is there any cell phone reception. The aim is to remove distractions and encourage you to enjoy the true desert experience. They serve vegetarian meals and make most of the food themselves.
Carmey Avdat – Another great cozy cabin option. Each cabin has an isolated location with views of the vineyard. Today, just as 1,500 years ago, the farm specializes in winemaking.
Camploge in the Negev
If chavot bodedim are the luxury desert accommodation, then camploge are the budget option. There are camploges all over the desert and they offer basic accommodation in large Bedouin-style tents or open areas with roofs.
Many of the camploges are for Israeli schoolchildren on school trips, but some are for independent travelers.
Prices start at around $20-$30 per person per night, making them the most affordable accommodation option in the Negev after pitching a tent somewhere for free. Here I've chosen four options in the four corners of the Negev.
Even more so than in other places, in the khans it's wise to stay over from Saturday to Thursday, as it is popular with groups of Israelis.
Shkedi – I wrote about this place in the Judaean Desert section, but I'm including it again here since it's located right at the border between the Judaean Desert and the Negev, and it's a really great place.
Beerotaim in Ezuz – One of my favorites! Check where it is on the map, as it's very remote.
Spice Route Inn – The khan is located in Tsofar, in the middle of the Arava (between Eilat and the Dead Sea) and offers different accommodation options from large Bedouin tents to small huts.
Khan Aviran – This khan is located in a village in the deep south of the Arava, on the way to Eilat. The area is beautiful and Eilat itself doesn't have a lot to offer in the budget section.
Accommodation in special communities
I love the desert and I love the desert people.
One day I'm going to write a post about the subject, but for now I'll just say this: unlike in most countries, where farmers are considered to be more conservative and perhaps old-fashioned, in Israel the villages are new. One of the aims of Zionism is to bring the Jews back to the land, so in Israel there are many village communities built around an idea. Some of these interesting communities offer accommodation along the route to Eilat. It's usually quite basic accommodation but in a place with a story.
Neot Smadar – A very special ecological kibbutz/community. This is their art house: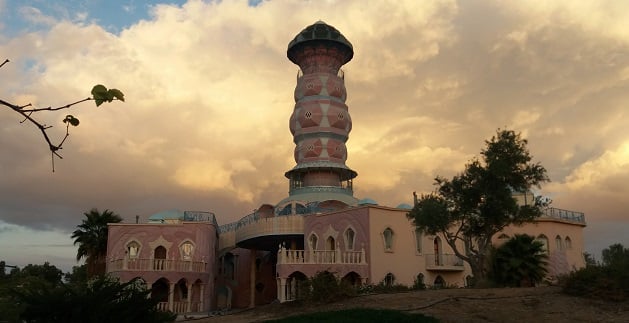 Ketura – A kibbutz whose members mostly belong to a conservative Judaism movement. The rooms are simple and good but the focus here is on the kibbutz. You also get a short tour through this unique community.
Lotan – This kibbutz belongs to the Reform Judaism Movement and offers educational programs about permaculture and eco-life. The rooms are standard but the area as a whole is interesting and they also offer tours.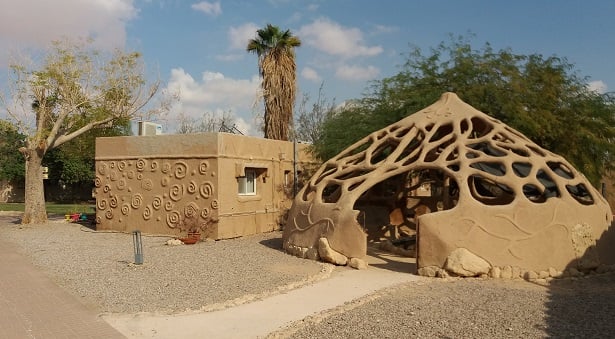 Tzukim – Many of the people who live in this new village focus on art and tourism. There are plenty of accommodation options. I like to recommend Desert Days (from around $120) and Midbara (around $150) but I think all the options here are good. Eretz Arava has the most luxurious cabins in the area (from around $320).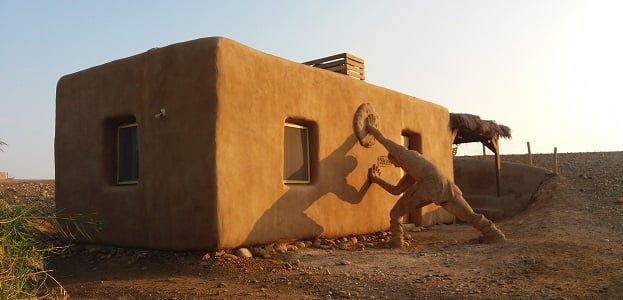 Mud hut at Desert Days. One of my favorites.
Hotels in Eilat
The best time to visit Eilat is in winter and during the week. In summer and on weekends it is expensive (but you can check out the prices and see for yourselves).
The high-end hotels are those right on the northern part of the coast, close to the city center. The southern beaches are more quiet, but harder to get to without a car.
The high-end hotels enjoy a beachfront location, as you might expect, and offer all the luxury of grand hotels. The top hotels are Royal Beach, Dan and Herods. Prices start at $320.
My favorite is Isrotel Yam Suf. It stands close to the border with Egypt and would suit those who like to be amid nature and near the sea, but be aware that it's harder to access without a car (it's about 3km from the city center). If you prefer a city hotel that offers good value for money, then I can recommend Isrotel Agamim. A minute's walk from the beach and you pay half what you would for the first-rate hotels. Prices start at around $160.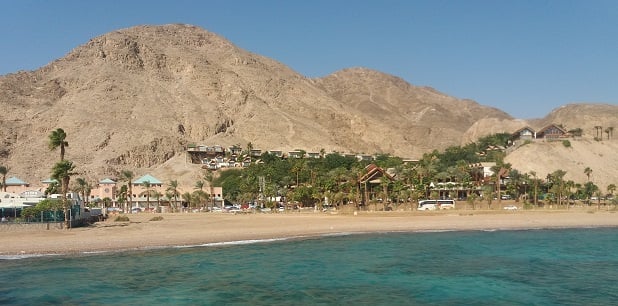 In Eilat there are two beach areas with hotels, one in the north, which forms part of the city, and one in the south, on the way to the border with Egypt. The latter has the sea on one side and the mountains on the other, but you'll need a car or plenty of money to spend on taxis to get to and from your accommodation.
If you're on a budget then Beit Sefer Safe Eilat (Eilat Field School) is really your only option. It was built for schoolchildren and that's exactly how it looks. Forget about the cool hostels of Jerusalem and Tel Aviv: this takes you back to the travel culture of Israel in the 1980s. It isn't bad. But it isn't good either.
You can also pitch a tent for free at two of the southernmost beaches, not far from the border crossing to Egypt.  
A map with all my Negev recommendations ($ – Green, $$ – Blue, $$$ – Purple):
I hope that you found this list helpful! 
Order my 3 booklets – Jerusalem, Tel Aviv and Masada – from me directly for 19€ right now and get the PDF and EPUB version for free! Or buy the PDF or EPUB for 9.90€. Check out all of my merch. The booklets are also available on Amazon.
I want my internet site to be the best source of information about traveling to Israel. For that to be the case, I need your help. I want to know what you want to know, so if you have any questions, please write them down here and I will do my best to answer them!