The Negev Desert takes up 50% of Israel, so there is a lot to cover. I'll start in the north and work my way down to the south.
Hotels around Sde Boker and Mitzpe Ramon
Although Be'er Sheva is considered to be the capital of the Negev, skip it and head straight to the Sde Boker and Mitzpe Ramon area.
I always recommend Mitzpe Ramon, whether you're traveling in summer or winter, on a low or high budget, with or without a car. It's a small town with a perfect location right on the Ramon Crater, with all the facilities and activities that travelers need.
If you want the best, then Beresheet Hotel is the only option. A luxury hotel in the perfect location. Prices start at around $450.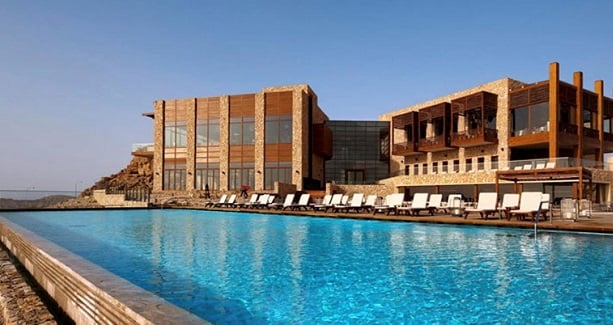 Beresheet Hotel. Luxury on the edge of the crater.
For mid-range accommodation I like to recommend:
IBIKE – As you can tell from the name, this hotel was built for people looking to cycle around Mitzpe Ramon, but it's also a great option for non-cyclists. Prices start at $130.
InnSence – A good B&B with a nice restaurant. Clean modern design. Prices start at $130.
The Alpaca Farm – Situated 4km from Mitzpe Ramon, it is home to lots of lovely animals, like alpacas and llamas. It's a great place for children but also for couples. Prices start at $190.
There are two low-budget places I like to recommend:
Silent Arrow – If you have a car then I can highly recommend this place. On the outskirts of Mitzpe Ramon, this is a small place with private domes and dormitory tents. The perfect budget option for desert lovers.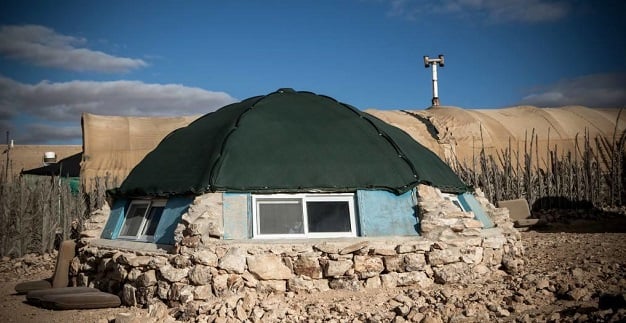 Silent Arrow. I love this place, but just remember that it gets very cold at night.
Another great budget option is the White Hill hostel in Yerucham. Yerucham is located next to the big crater, about one hour's drive north of Mitzpe Ramon.
Chavot Bodedim around Sde Boker and Mitzpe Ramon
Chavot bodedim literally means "lonesome farms". Most of the farms were established in the nineties and are run by single families who own a lot of land (in Israel "a lot" means more than a few hectares).
Many of them grow wine grapes and olives and some make their own cheese. Most of them have 2-3 zimmerim and include breakfast on account of their remote location.
They are not cheap, starting at around $150 per night, but personally I like them. The money goes to individual families and you can feel the desert as soon as you open the door.
Many of them are located north of Mitzpe Ramon, around an hour and a half's drive south of Tel Aviv and Jerusalem.
Naot Farm – The farm is located ten minutes' drive from Sde Boker, so from Tel Aviv it really doesn't take you long to get to the desert. Unlike other farms that only have cabins, here they also have simple mini rooms rather like a hostel.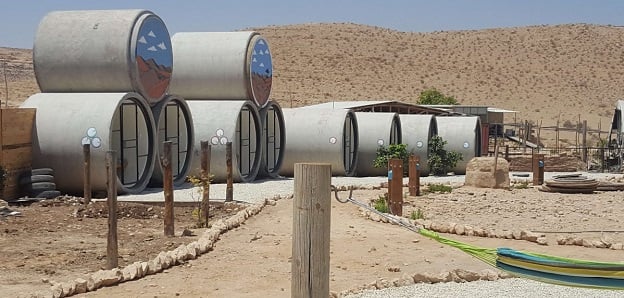 All the chavot bodedim are great. At Naot Farm they also have the Tube Hostel for budget travelers.
Succah In The Desert – An eco-farm 8km from Mitzpe Ramon. This place is not for everyone. You need to arrive before it gets dark as there are no lights. Nor is there any cell phone reception. The aim is to remove distractions and encourage you to enjoy the true desert experience. They serve vegetarian meals and make most of the food themselves.
Carmey Avdat – Another great cozy cabin option. Each cabin has an isolated location with views of the vineyard. Today, just as 1,500 years ago, the farm specializes in winemaking.
Camploge in the Negev
If chavot bodedim are the luxury desert accommodation, then camploge are the budget option. There are camploges all over the desert and they offer basic accommodation in large Bedouin-style tents or open areas with roofs.
Many of the camploges are for Israeli schoolchildren on school trips, but some are for independent travelers.
Prices start at around $20-$30 per person per night, making them the most affordable accommodation option in the Negev after pitching a tent somewhere for free. Here I've chosen four options in the four corners of the Negev.
Even more so than in other places, in the khans it's wise to stay over from Saturday to Thursday, as it is popular with groups of Israelis.
Shkedi – I wrote about this place in the Judaean Desert section, but I'm including it again here since it's located right at the border between the Judaean Desert and the Negev, and it's a really great place.
Beerotaim in Ezuz – One of my favorites! Check where it is on the map, as it's very remote.
Spice Route Inn – The khan is located in Tsofar, in the middle of the Arava (between Eilat and the Dead Sea) and offers different accommodation options from large Bedouin tents to small huts.
Khan Aviran – This khan is located in a village in the deep south of the Arava, on the way to Eilat. The area is beautiful and Eilat itself doesn't have a lot to offer in the budget section.
Accommodation in special communities
I love the desert and I love the desert people.
One day I'm going to write a post about the subject, but for now I'll just say this: unlike in most countries, where farmers are considered to be more conservative and perhaps old-fashioned, in Israel the villages are new. One of the aims of Zionism is to bring the Jews back to the land, so in Israel there are many village communities built around an idea. Some of these interesting communities offer accommodation along the route to Eilat. It's usually quite basic accommodation but in a place with a story.
Neot Smadar – A very special ecological kibbutz/community. This is their art house: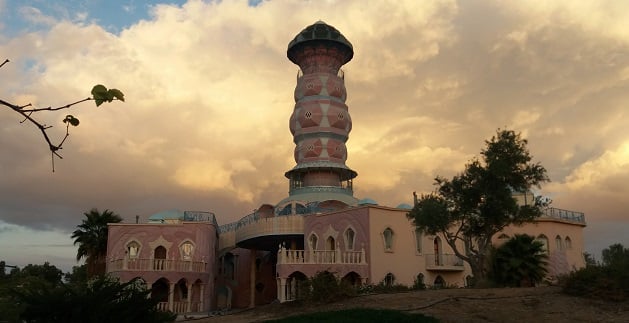 Ketura – A kibbutz whose members mostly belong to a conservative Judaism movement. The rooms are simple and good but the focus here is on the kibbutz. You also get a short tour through this unique community.
Lotan – This kibbutz belongs to the Reform Judaism Movement and offers educational programs about permaculture and eco-life. The rooms are standard but the area as a whole is interesting and they also offer tours.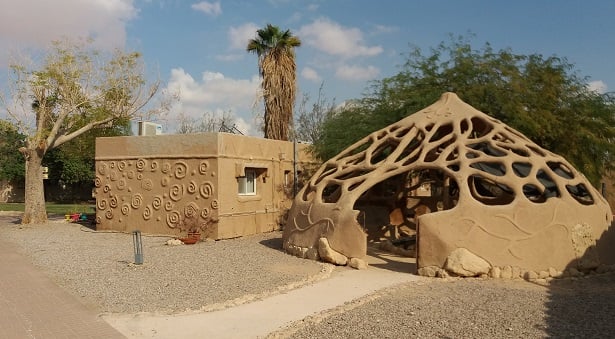 Tzukim – Many of the people who live in this new village focus on art and tourism. There are plenty of accommodation options. I like to recommend Desert Days (from around $120) and Midbara (around $150) but I think all the options here are good. Eretz Arava has the most luxurious cabins in the area (from around $320).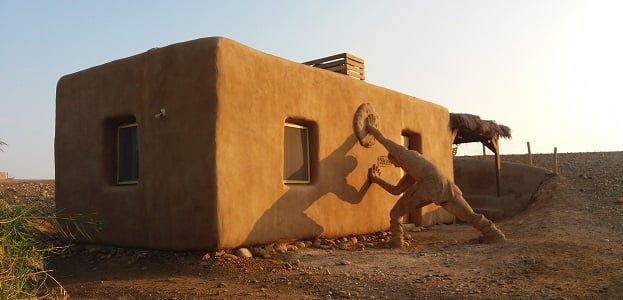 Mud hut at Desert Days. One of my favorites.
Hotels in Eilat
The best time to visit Eilat is in winter and during the week. In summer and on weekends it is expensive (but you can check out the prices and see for yourselves).
The high-end hotels are those right on the northern part of the coast, close to the city center. The southern beaches are more quiet, but harder to get to without a car.
The high-end hotels enjoy a beachfront location, as you might expect, and offer all the luxury of grand hotels. The top hotels are Royal Beach, Dan and Herods. Prices start at $320.
My favorite is Isrotel Yam Suf. It stands close to the border with Egypt and would suit those who like to be amid nature and near the sea, but be aware that it's harder to access without a car (it's about 3km from the city center). If you prefer a city hotel that offers good value for money, then I can recommend Isrotel Agamim. A minute's walk from the beach and you pay half what you would for the first-rate hotels. Prices start at around $160.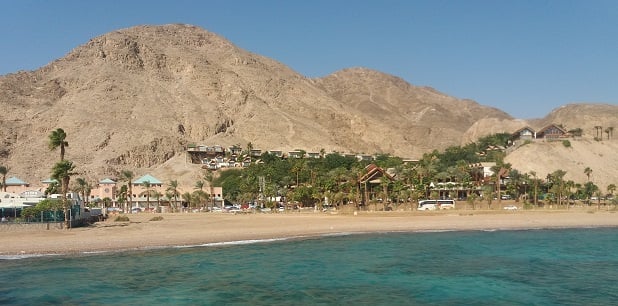 In Eilat there are two beach areas with hotels, one in the north, which forms part of the city, and one in the south, on the way to the border with Egypt. The latter has the sea on one side and the mountains on the other, but you'll need a car or plenty of money to spend on taxis to get to and from your accommodation.
If you're on a budget then Beit Sefer Safe Eilat (Eilat Field School) is really your only option. It was built for schoolchildren and that's exactly how it looks. Forget about the cool hostels of Jerusalem and Tel Aviv: this takes you back to the travel culture of Israel in the 1980s. It isn't bad. But it isn't good either.
You can also pitch a tent for free at two of the southernmost beaches, not far from the border crossing to Egypt.