If you're looking for a great hostel or just affordable accommodation in Jerusalem, then
you're in the right place!
Israel is an expensive destination, so if you're traveling on a budget, or just don't want to pay too much for a room in a hostel, then you will find some excellent options here, ranging from private rooms to shared rooms and capsules. 
The price varies from $20 in dorms to about $40 for a capsule and $120 for a private room.
It's really easy to book a hostel online and there are plenty of good options. I'm going to make it easy for you and focus only on hostels that are in the city center. My definition of the city center is anything within a five-minute walk from Machne Yehuda in the west to City Hall in the East.
I will also be showing you some useful photos of the hostels that you don't get to see on the booking websites. 
And…
If you purchase my video tours not only will you understand Jerusalem so much better thanks to dozens of videos about the most important sites in Jerusalem, but you will get 10% discount codes for the Abraham Hostel & Abraham Tours and the Post Hostel.
Stay Inn Hostel & Hotel
The Stay Inn hostel and hotel is the most designer hostel I've ever seen.
From the outside this hotel and hostel looks like a regular office building but once inside you'll see it's really special and unique. 
The hostel only takes up one floor of this three-floor boutique hotel. The hotel is called Stay Inn and the hostel is called Hyve by Stay Inn (I have no idea why) but once inside you can move around all floors freely.
There is a rooftop terrace, a small garden, a wine bar and breakfast options. On days that they don't offer breakfast, they provide you with a voucher to eat at a nearby café.
The hostel is located on King George Street, right in the heart of the new city. It is about 4 minutes' walk from the Jaffa Center light rail station.
You can book a room here and dorms here.
Address: King George St 21
Abraham Hostel Jerusalem 
The Abraham Hostel was the first modern hostel in Jerusalem. The five owners initiated a revolution concerning everything connected to budget travel in Israel. 
There are private rooms and dorms, a lot of common areas and a nice rooftop. They also have hostels in Tel Aviv, Nazareth and Eilat as well as putting on interesting tours. 
I mention this place for two reasons. First, if you purchase my app you'll get 10% off all their hostels and tours, which will save you more money than the price of the app. 
And second, Abraham hostels are really good for solo travelers or people who are a bit nervous about traveling in Israel, as these hostels are big enough to provide everything: 24-hour reception, tours, shuttles, bar, breakfast. 
An Abraham hostel is always a great place to meet other travelers.
 It's very easy to get to. The light rail station of HaDavidka is right next to it.
If you purchase my app you'll get 10% off ALL their hostels – in Eilat, Tel Aviv and Nazareth, and of all their tours. So if you're planning on staying there, be sure to get my app BEFORE you book a room or a tour.
If you don't plan on getting my app, you can book a room here and dorms here.
Address: Haneviim 1
The Post Hostel
The Post Hostel, like the Stay Inn, looks like a boutique hotel. It used to be the post office building, which explains the post office designs. 
In my opinion, this is the best hostel next to the Old City. And it is right next to the City Hall light rail station.
Before Corona, they used to serve breakfast and they plan on bringing it back in the next few weeks.
If you purchase my app you will get a 10% discount off all rooms.
If you don't plan on getting my app, you can book a room here and dorms here.
Address: Koresh 3
Jeru Caps
When I told my friends I was going to sleep in a capsule hostel, their first reaction was, "Like in East Asia? We didn't know there was such a thing in Jerusalem." And the second reaction was one of "Cool!" or "Like sleeping in a coffin?" There is no middle ground.
I like the idea of capsules. They're perfect for travelers on a budget who want privacy and don't want to spend too much money on a room. 
The capsules. There is one room for men, one for women and a shared one.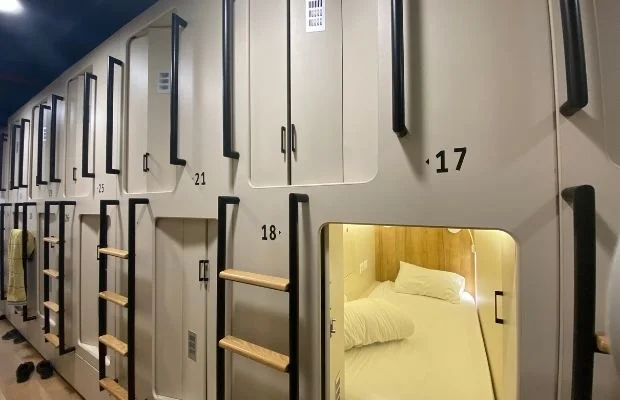 You can book a room here and dorms here.
Address: Hillel St 20