Visiting the Al Jazzar Mosque
Visiting the Al Jazzar Mosque can be combined with a tour of other sights in Akko. The Old City of Akko is very small and all sights are within walking distance. Opening hours change according to prayer times, but the mosque is usually open. Phone: 04-9913039; entrance price: NIS 10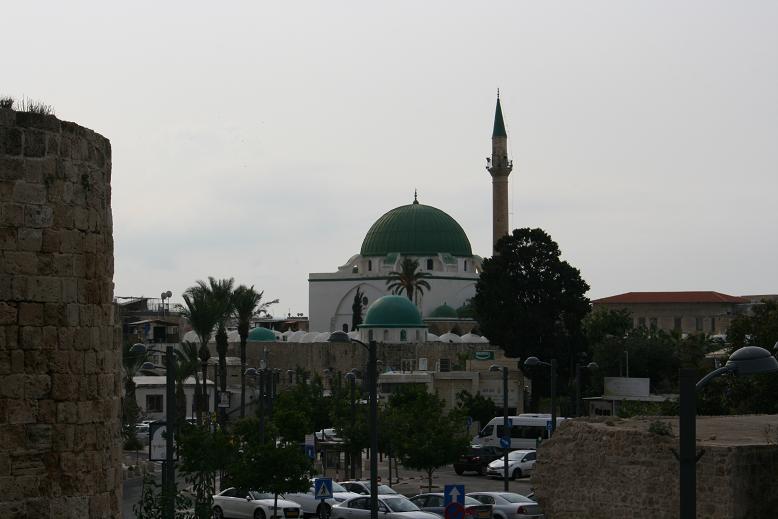 This is the second largest Mosque in Israel after the Al-Aqsa Mosque. The mosque was built in 1781 on the ruins of a church that was built on the ruins of a mosque from the early Muslim era. The mosque is named after the ruler of Acre at the end of the 18th century. The Ottoman Empire ruled the Middle East for four hundred years, from 1517 to 1917, but after a short golden age the empire gradually declined. The central government was weak and local rulers controlled large areas. When Dhaher al-Omar, a Bedouin ruler of Galilee, appropriated too much authority and started establishing connections with hostile European empires, the sultan in Istanbul decided to put an end to Dhaher autonomy. Al Jazzar, a Bosnian officer that was known for his cruelty (Al Jazzar means "the butcher" in Arabic; his real name was Jezzar Pasha), was sent to assassinate Dhaher. After completing the task he became the governor of Acre. At the time of his rule he fought against Napoleon.
The mosque was built during the reign of Al-Jazzar, and he is buried next to it. Once a year, at the Eid al-Fitr celebration, a hair – which according to tradition comes from the beard of Mohammed – is presented in the mosque.
Planning to visit Israel? Like what you're reading? Then you'll probably like my booklets too! My Tel Aviv, Jerusalem and Judaean Desert booklets will guide you through the most important sites in Israel. You can download my eBooks from Amazon, Kobo, Barnes & Noble and Apple iBook. Or order all three booklets from Amazon.
If you're planning a trip to Israel and want my team to build you a whole package including luxury hotels, guides and attractions, then you can schedule a call here.
If you're traveling on a modest budget, you can also purchase my Booklets, in which I basically wrote down everything that I say on my 3 most popular tours: Jerusalem, Tel Aviv, and the Judaean Desert. I also added maps, pictures and graphics which will enable you to be your own guide. The booklets are only sold outside Israel, so order now and come prepared! Or download as a PDF or EPUB (e-book).
Planning your trip to Israel?
 The Israeli Society
I want my internet site to be the best source of information about traveling to Israel. For that to be the case, I need your help. I want to know what you want to know, so if you have any questions, please write them down here and I will do my best to answer them!