Planning to change money in Jerusalem? Looking for ATMs with low rates of commission?
Then you are in the right place!
I'm going to show you the honest places, point out which ATMs you should use and which you should avoid, and provide a map at the end with all the recommended exchange places.
Changing money in Jerusalem, in a nutshell:
Israelis primarily use credit cards, but having some cash is always a good idea.
Israel is a safe destination. The chances of being pickpocketed are extremely low.
You are allowed to enter Israel with up to 50,000 shekels in cash, which is equivalent to around $14,000.
Apple and Android Pay are also accepted everywhere.
I advise you to use the honest exchange places I recommend here.
If you want to withdraw money, use the bank ATMs and not the non-bank ATMs. Use bank ATMs rather than withdrawing cash from the money exchangers.
All the recommended places are also featured in my app – Jerusalem with Oren.
Changing money in the City Center
Zion Square is located in the center of the New City, between the light rail stations of Jaffa Center and City Hall. There are lots of hotels in this area.
There are two exchange places at the beginning of Ben Yehuda Street: Euro Change and Jerusalem Change.
In all of these exchange places, I asked how many shekels I would get for $500.
Disclaimer: I visited all the exchange places on January 26th. I have no connection to any of the places. They did not pay me to be featured in this post and video.
Click here to check out today's exchange rate.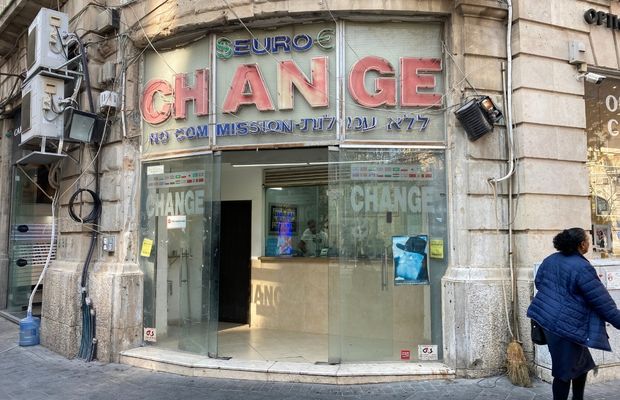 Euro Change – for $500, you get 1680 shekels.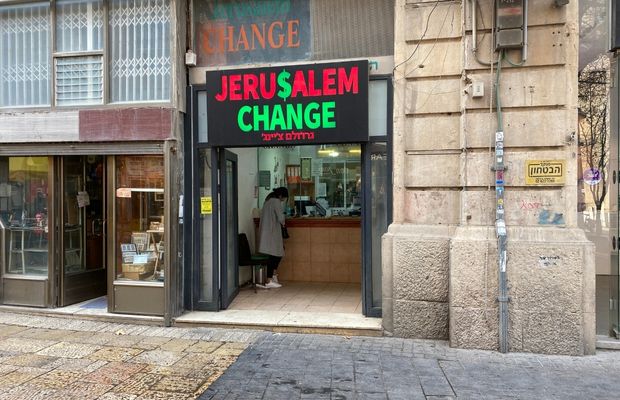 Right next to Euro Change is another place called Jerusalem Change. For $500, you get 1675 shekels.
At the City Hall light rail station, which is the closest station to Jaffa Gate and the New Gate, there are two more places, where you will get the worst exchange rate.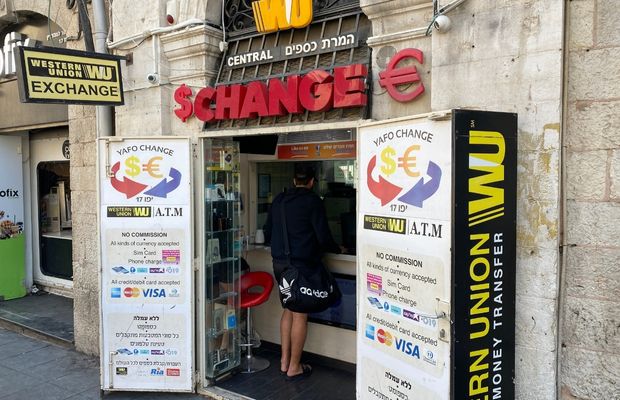 The Western Union (Central Change) – for $500, you get 1550 shekels.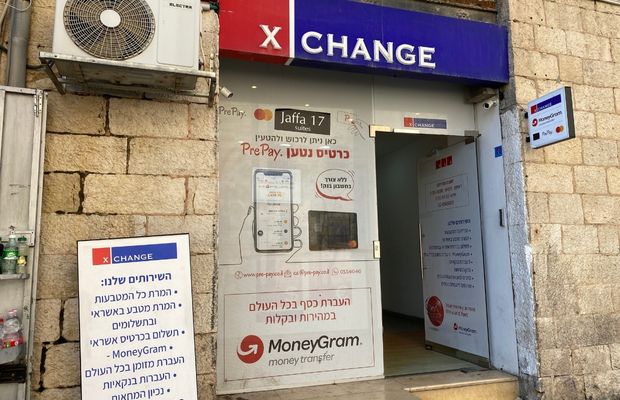 X Change – for $500 you get 1625 shekels.
There is another exchange place in front of the Mamila open-air mall, which leads to Jaffa Gate.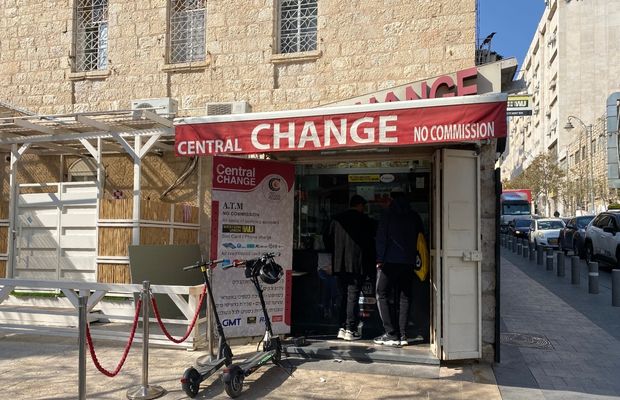 Central Change – for $500, you get 1625 shekels.
Mamila & Jaffa Gate area
By far, the most complaints I hear about changing money are related to places in the Jaffa Gate area. So I'm providing plenty of alternatives here.
The Mamila shopping mall has a bank ATM on the second floor. It is tricky to find it. If you can't find it, don't worry, there is another one in the Jewish quarter.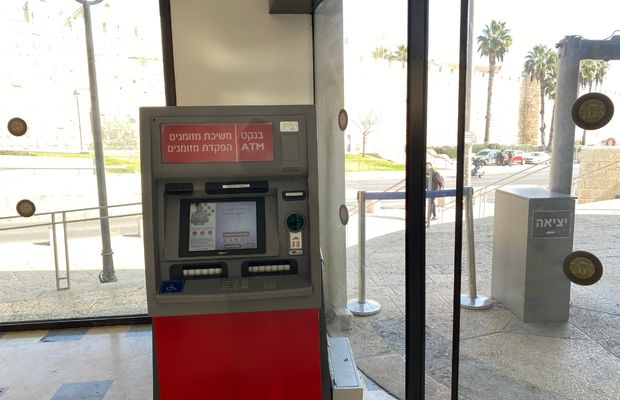 Changing money in the Old City of Jerusalem
Something good has been happening at the New Gate over the last few years. New restaurants and cafés are opening up all the time.
And if you want to start your day by visiting the Church of the Holy Sepulchre, as I would recommend, the quickest way to get there is through the New Gate.
When entering from the New Gate, you will see Fares's place to your right. A great place to change money.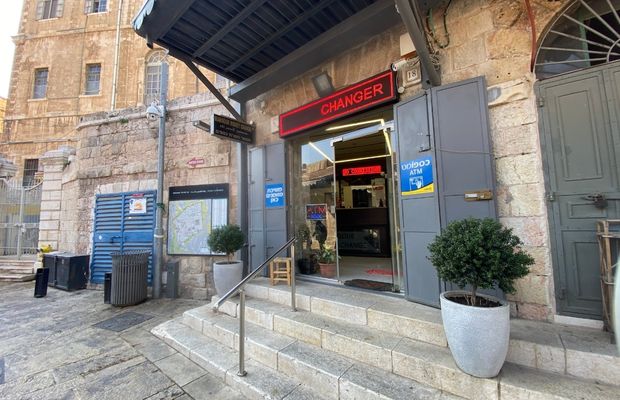 Fares's Mansour Place – for $500, you get 1690 shekels.
Another place I recommend is Assila. It's located in the middle of the Old City. If you enter through Jaffa Gate and go straight on to David Street, the market street, you will see his booth to your right.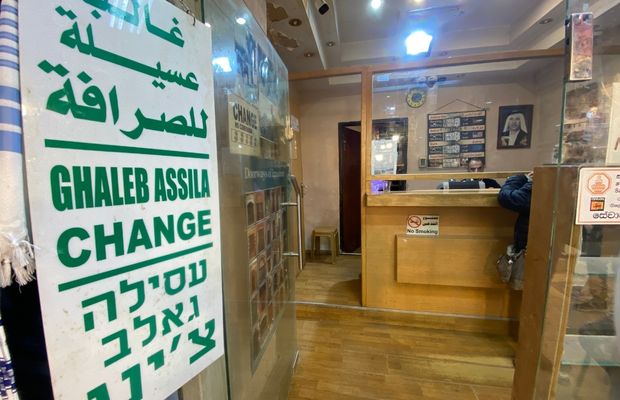 Ghaleb Assila Change – for $500 you get 1680 shekels.
In the center of the Jewish quarter, you will find the only bank ATM in the Old City. Be sure to use this one and not the others.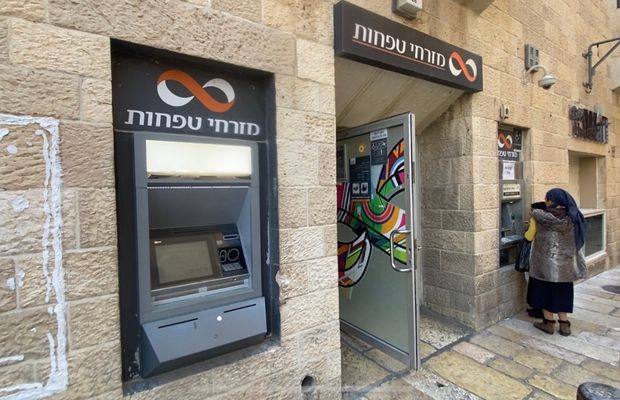 Changing money & Bank ATMs in Jerusalem – Map
All the fair places that I have shown you here are also featured in my app – Jerusalem with Oren.