"How much does it cost to travel around Israel?"
This is one of the first questions that people planning on flying to Israel ask. The answer depends, of course, on your standards. Some people won't sleep in anything less than a 4-star hotel whereas for others a private room in a hostel is a luxury. The same goes for transportation and food. This list will give you an idea of the costs involved in a trip to Israel and allow you to estimate how much money you'll be spending each day.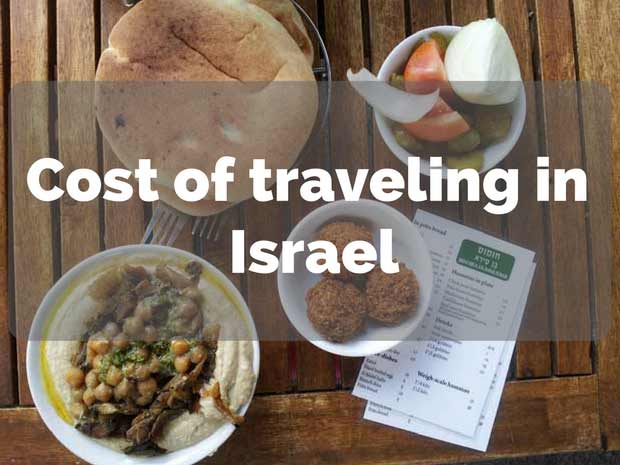 Cost of Accommodation (price per night):
Accommodation tends to be the biggest expense wherever you vacation and in Israel accommodation is not cheap. Be sure to check whether your visit falls on Jewish holidays because then the prices go up.
Shared hostel room, per person: 80-130 NIS ($22-37, €16-27)
Three-star hotel, double room: 330-550 NIS ($100-150, €75-120)
Five-star hotel, double room: 1000-2000 NIS ($300-550, €200-380)
Rooms on upper floors, upgraded rooms, and suites cost more.
Cost of Transportation:
Transportation in Israel is fairly cheap compared to that in countries in Western Europe. Buses and trains reach most places in Israel. The touristy cities of Tel Aviv, Jerusalem, Haifa and Nazareth are easily accessible with public transportation. The Golan Heights and the Negev are less easy to get to, but it is possible. If you rent a car (which I recommend for traveling in the Negev and Golan Heights), be aware that the price of gas is extremely high in Israel.
Taxis within Tel Aviv: 30-50 NIS ($8-12, €7-10)
Train from Tel Aviv to Haifa: 35 NIS ($9, €8)
Bus from Tel Aviv to Jerusalem: 20 NIS ($5, €5)
Bus ticket within cities: 6.90 NIS ($1.7, €1.7)
Car rental, per day: starts at $35
Liter gas: 6 NIS ($1.5, €1.5)
Cost of Food:
From street food to restaurants, Israeli food is great, but restaurants are expensive and alcohol is ridiculously expensive.
Falafel: 10-16 NIS (€3.5)
Cup of coffee in a café: 12-20 NIS (€3.5)
Beer in a pub: 20-35 NIS (€6-7)
Meal in a restaurant, per person: 80-250 NIS (€20-50)
Guide
Many of the important sights in Israel are not impressive in themselves. You need to know the history in order to enjoy the sites, which is why the best way to see the country is with a tour guide. But not everyone can afford it. There are cheaper options, such as tip-based tours in Jerusalem and Tel Aviv and, of course, my booklets.
Day tour without a car: starts at $250 a day
Day tour with a car: starts at $450 a day
Tip-based tours: 30-50 NIS ($10, €10)
Attractions/Entrance fees
Entry to national parks costs 29 NIS per person. Most museums are more expensive, but prices are reasonable.
Masada: 29 NIS ($7, €7)
Israel Museum: 54 NIS ($13, €13)
Cost of a budget day in Tel Aviv for one person
Night in a hostel (including breakfast): 90 NIS
Bus to Jaffa: 6.60 NIS
Tip-based tour/walk with my booklets: 40/25 NIS
Lunch in Shuk (Market) HaCarmel: 50 NIS
Tel Aviv Museum of Art: 50 NIS
Ice cream: 20 NIS
Food for cooking your own supper in hostel + one beer: 50 NIS
Total: 300 NIS ($78, €75)
Cost of a (non-budget) day in Tel Aviv for a couple
Night in a boutique hotel (including breakfast): 1500 NIS
Private guide (walking tour, without a car): 1300 NIS
Coffee and cake: 100 NIS
Two taxi rides: 70 NIS
Restaurant: 350 NIS
Total: 3,300 NIS ($860, €800)
I really want to change how individual travelers see and experience Israel and there are a lot more videos and posts I want to create and upload, ranging from planning your trip to Israel's history and culture. If you'd like to support me, you can do it in one of two ways: by buying my booklets or, if you're traveling to Israel, by booking your hotels and hostels through the links on my website. You'll pay exactly the same amount and I'll get a small commission that allows me to add more content. Thanks for your support!
My 6 Most Popular Posts:
For more information about your tour in Israel, check out my travel guide booklets: