Ein Gedi is the largest oasis in the Judaean Desert and a national park with historical sites.
Important information for visitors
Note that Ein Gedi is sometimes spelled "En Gedi" or "Eyn Gedi." Ein Gedi is a nature reserve that contains many different hiking trails, from a short one-hour walk to a full-day trek. You're not allowed to spend the night in the nature reserve so you have to start hiking the long trails by 9 a.m. And on hot days you have to ask the rangers if hiking is permitted since there is no shade along some of the long trails. For opening hours and entrance prices, click here.
Be aware if traveling by bus that there are a number of bus stops with the name Ein Gedi in them and the distances between the stops are 1 to 2 kilometers, so make sure you know exactly where you want to get off. Part of the road next to Ein Gedi collapsed because of sinkholes so there may be further changes. The first stop, if coming from the north (Jerusalem), is Ein Gedi National Park, which is next to the main entrance and the two hostels (Ana and SPNI-Beit Sefer Sade). The next station is Kibbutz Ein Gedi, where where you also have the Hotel Ein Gedi, and the last stop is Ein Gedi Spa, which is a beach with entrance fees. The free Ein Gedi beach was closed due to sinkwholes.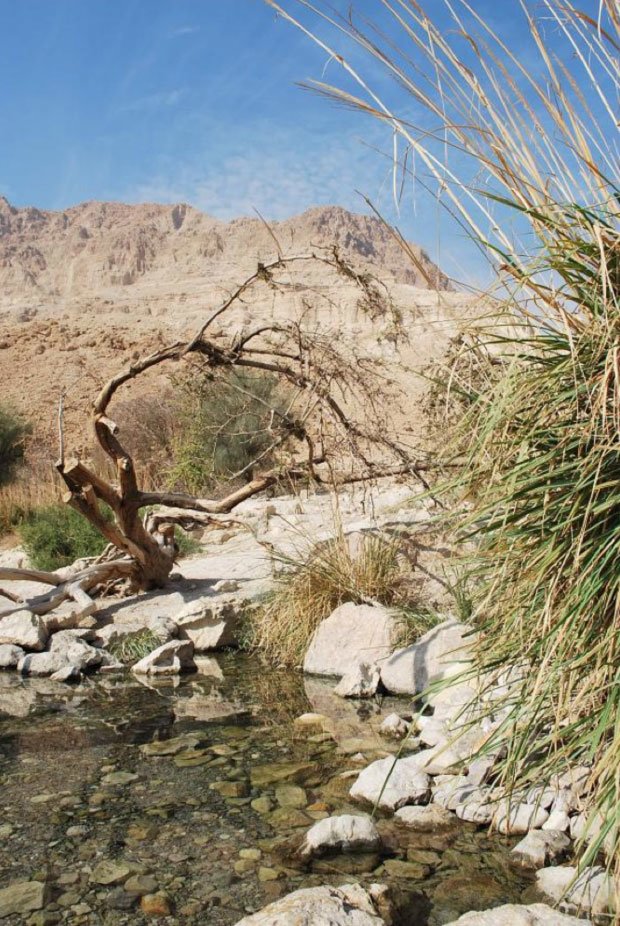 Ein Gedi spring
The History of Ein Gedi
The earliest evidence for human settlement dates back to the Chalcholite period, 6,000 years ago. A small temple was found in the area of the reservation. The site is actually a rectangular room with 50cm-high walls. In the smaller, internal room, many animal remains were found, which is why it is assumed animals were sacrificed there.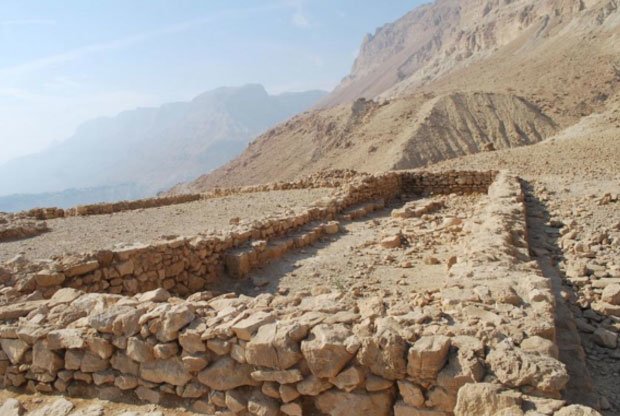 The Chalcholite Temple
Frankly, the site is not very impressive. In addition to having a lack of building materials, people of the desert have always lived a more modest and simple life than people who live in more cultivated areas.
One obvious source of income for the settlers of Ein Gedi is salt mining in the Dead Sea. Besides its use in seasoning food, salt also constituted an important means of food preservation and was used for medical purposes too.
The availability of water in Ein Gedi allowed the development of agriculture in the settlement. There is a curse written in the mosaic floor of the ancient synagogue of Ein Gedi against whoever discovers the city's secret – which is probably the process for making persimmon perfume.
The synagogue in Ein Gedi nature reserve was built in 3 CE and stood for 400 years. The synagogue was destroyed in 6 CE and today only the lovely mosaic floor is still visible. There are a number on inscriptions in the mosaic: a list of horoscopes, months, the blessing "Peace on Israel" and the curse that was mentioned previously.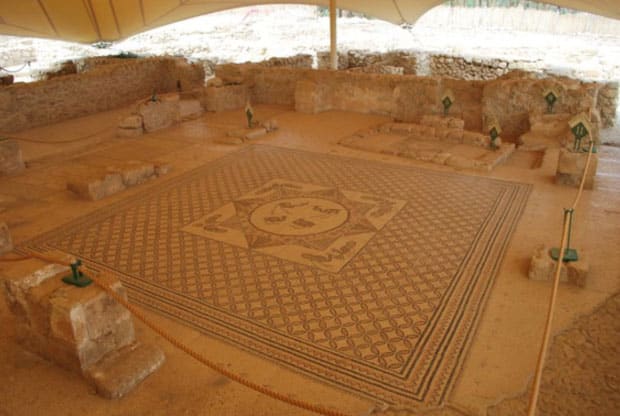 Part of the mosaic floor in the En Gedi Synagogue
As you walk in the Ein Gedi Nature Reserve you will probably see rock hyrax. They are wondrously adapted to the cliffs of the desert. They can create a vacuum in their paws that literally "glues" them to the rock. Their flexibility allows them to climb quickly through the crooks and crannies. They move in large herds and one rock hyrax is always on guard. When it spots danger (or you), it whistles and the herd escapes to a hiding place.
Like what you're reading? Great! This post is part of my Judaean booklet. If you like what you're reading and are planning to travel to Israel, or if you just want to support me, you can download my eBooks from Amazon, Kobo, Barnes & Noble and Apple iBook. Or order all three booklets from Amazon.
Related posts:
The Judaean Deset – The desert of the holy city
Itinerary Judaean Desert
Budget Accommodation in the Judaean Desert
Cabins in the Judaean Desert
The purpose of my website is to help you plan your trip to Israel. If you're looking for a  deeply moving experience that will inspire you and your loved ones then you need to contact us and find out about our immersive experiences, for which we devise a tour that is tailor-made for you and your interests.
If you're traveling on a modest budget, you can also purchase my Booklets, in which I basically wrote down everything that I say on my 3 most popular tours: Jerusalem, Tel Aviv, and the Judaean Desert. I also added maps, pictures and graphics which will enable you to be your own guide. The booklets are only sold outside Israel, so order now and come prepared! Or download as a PDF or EPUB (e-book).
 Planning your trip to Israel?
 The Israeli Society
I want my internet site to be the best source of information about traveling to Israel. For that to be the case, I need your help. I want to know what you want to know, so if you have any questions, please write them down here and I will do my best to answer them!