The Old City of Jerusalem is one of the most special places in the world. The focus is always on the important sites, but between the sites are some very special shops.
Shops that you definitely wouldn't find if you hadn't been told about them beforehand.
If you want to know all the locations of the shops and the stories behind them (as well as all my other explanations), you can purchase my app, Jerusalem with Oren (available in the App Store and on Google Play).
Tattoo shop – Razzouk Tattoo
The first shop I want to show you is a shop called Razzouk. He doesn't sell any products but his service is really unique.
His family has been creating tattoos for pilgrims for the last 700 years. First in Egypt and, in the last 500 years, in Jerusalem. He works with tattooing stamps, some of which are 500 years old. Most of Razzouk's clients are first-timers who never imagined they'd be getting a tattoo but decide to go for it since this is more than just a tattoo: it's a certification of their pilgrimage and part of an old tradition.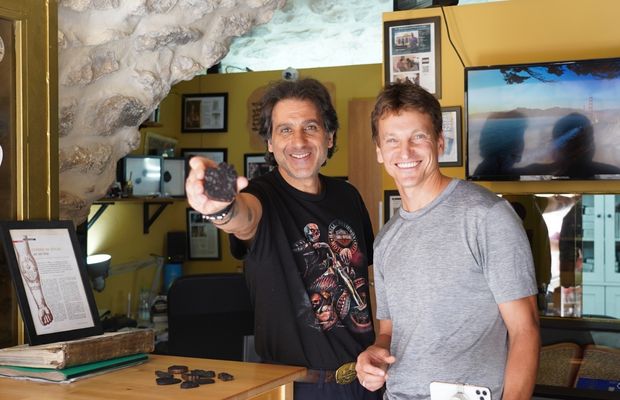 Address: 31 Shvil Saint George (in the Christian quarter, not far from Jaffa Gate), Jerusalem
Fabric shop – Bilal Abu Khalaf
At first glance, Bilal's fabric shop doesn't seem to have any special connection to Jerusalem, seeing as he imports all his fabrics from three different countries: Syria, Morocco and India.
But the fabric that his family has been importing for four generations is of interest as he sells most of it to religious customers: Jews, Christians and Muslims, with the fabric telling the story of the people.
For example, ultra-orthodox Jews buy fabric that is not shatnez, meaning the fabric doesn't contain a mix of wool and linen. Christian priests wear different colors at different times of the year, as do the Muslims who are the heads of their villages.
But you don't have to be a priest to buy something here :-). Bilal has some really lovely decorative items for the house too.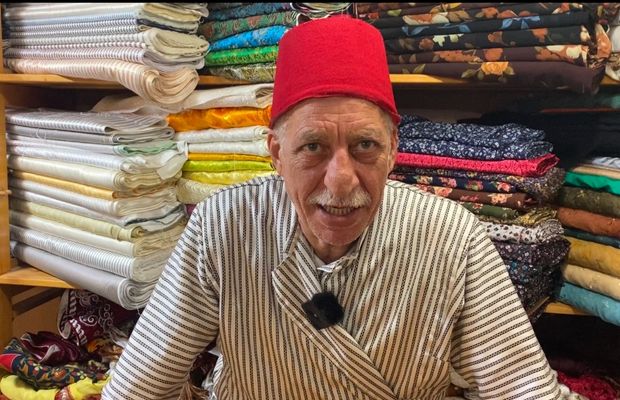 Address: 164 Aftimus Street (from Moristan Street, walk along the alley in front of the Redeemer Church), Jerusalem
Elia PhotoShop
If you're into old photos, then this is the shop for you!
In Elia Photo Shop you can buy old photos of Jerusalem dating from the end of the 19th century to modern times.
Most of the photos are by Elia, who started the business. A survivor of the Armenian genocide, he was brought to Nazareth as a child. One of his teachers had a camera, which introduced him to photography, and by the 1920s he was making a living by visually documenting the land of Israel.
Like many shops on my list, this one has been run by the same family for generations.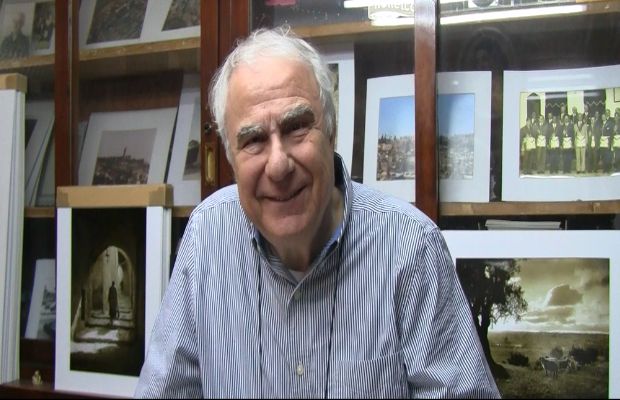 Address: 14 Al Khanka Street (from station number 8 of the Via Dolorosa continue up and the shop will be on your left), Jerusalem
Ceramics shop – Jerusalem pottery
Here is another example of how the history of Jerusalem and the Middle East influenced the artisanal and special shops trading in the city today.
After World War I, a handful of Armenian families were brought in by the British to renovate the ceramics on the Dome of the Rock. One of them was the Karakashian family. By coming to Jerusalem they were able to escape the horrors of the Armenian genocide.
These families initiated a new kind of ceramic art that combined patterns with different animal and plant motifs. You can find plenty of imitations of their art on the market (made mostly in Hebron and China).
Here we have the original version.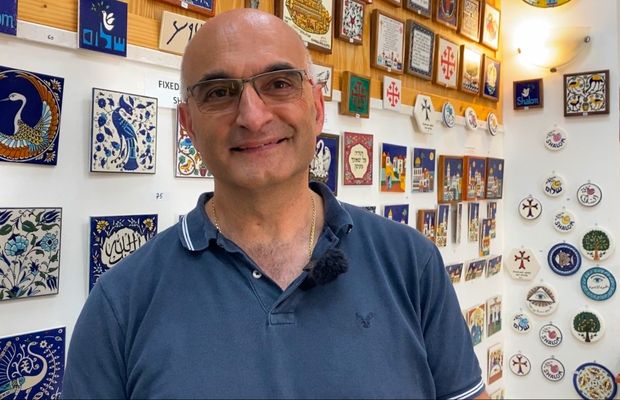 Address: 3 Greek Orthodox Patriarchate Street, Jerusalem
Antiques shop – Zak's shop
Israel has a surprisingly permissive policy when it comes to selling antiques. The only thing you need to make sure of is that the dealer is authorized. This assures you of two things: that the artifact you're buying really is what it's said to be, and that it wasn't robbed from an archaeological site. Zak is one of the few dealers who has the authorization to sell antiques. In his shop you will find ancient coins, oil lamps, Roman glass and many other artifacts.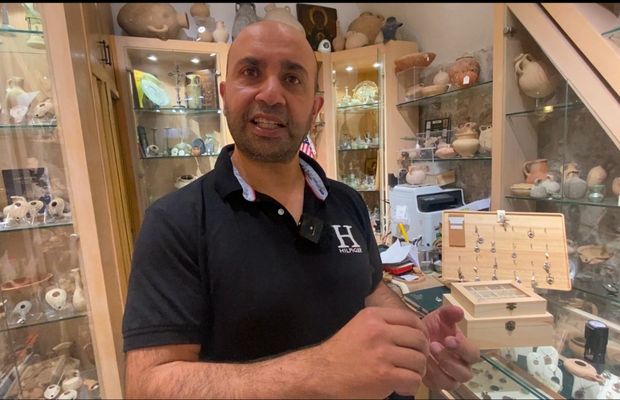 Address: 24 Christian Quarter Road, Jerusalem
Jewelry shop – Moriah
Moriah jewelry turned a crime into an honorable business and dirt thrown into dumpsters into beautiful jewelry. I know it sounds bombastic but there's no other way of telling this story.
Jerusalem is a holy city replete with more than its fair share of tensions. About 20 years ago the Waqf, the Muslim authorities, dug a huge underground mosque in the Temple Mount, deliberately destroying untold numbers of Jewish artifacts.
400 truckloads of soil from the Temple Mount were thrown into local dumpsters. A huge undertaking to sift through this soil was begun and many artifacts are still being found to this day.
The rocks found in the soil are bought by a jeweler named Avi Tavisal, who incorporates the rocks into jewelry. So you basically get to wear a tiny part of the Temple Mount, one of the holiest compounds in the world.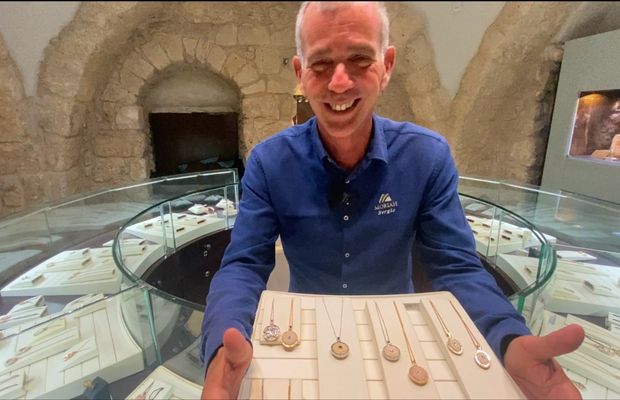 Address: 7 Beit-El Street, Jerusalem
Jossef the Weaver
Jossef weaves handmade tallit, ziziot, kipot and other Jewish garments and religious items. You can see him working on the loom outside his shop.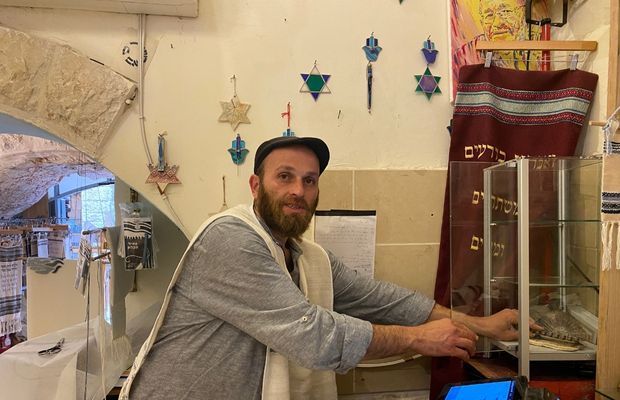 Address: 69 Ha-Yehudim Street, Jerusalem
You can check out all of my tours: the Old City tour, Rampart tour, Yad Vashem and Mount Herzl, and the City of David, as well as all my recommendations for travelers, on my app, Jerusalem with Oren.