If you're planning to travel from TLV airport to Tel Aviv, then this post is going to provide you with some very important information.
TLV airport to Tel Aviv in a nutshell:
TLV airport is located outside of Tel Aviv. It won't take you much longer to get to Jerusalem.
Avoid the taxi scammers. They are the ones who approach you in the arrivals hall or once you've exited the airport and ask you if you need a taxi.
The train is the best way to get to Tel Aviv (or Jerusalem).
Check the Israeli rail network website to see if trains will be running when you land. Be aware that trains don't operate at night, on Saturdays and Jewish holidays.
There are four train stations in Tel Aviv. Try to avoid the first one (HaHagana) at night. It's not a nice area.
Tel Aviv Airport (Ben Gurion Airport)
I'll start with a misconception that many people have.
Just because you land at Tel Aviv airport, it doesn't mean you need to start your trip in Tel Aviv.
Israel is tiny and the airport is located outside of the city, so you can easily take the train to Jerusalem as well.
It won't take you any longer. You could also rent a car and drive to the desert or the Galilee. Two hours and you are there.
Notice: The name TLV airport is only used by tourists. In Hebrew we call the airport NATBAG, which is an acronym for Ben Gurion Airport (Namal Teufa Ben Gurion).
There are two easy ways to get to Tel Aviv: by train and by taxi.
Taking a taxi to Tel Aviv
If you decide to take a taxi, you need to be aware of scammers.
They are the ones who will approach you in the arrivals hall or once you've exited the airport and ask you if you need a taxi. They won't use a meter and they'll definitely rip you off, which isn't the ideal way to start your trip to Israel.
You need to go to the official taxi rank. You head out of the airport, turn left and walk all the way to the rank. You can follow the stickers on the airport floor that lead you there. Most tourists fail to see these when they've just arrived and everything is new around them.
A ride will cost around $40 to $50 and on Saturdays (Friday evening to Saturday night) and holidays it will cost around $70 to $80.
Taxi drivers are the number one complaint of tourists.
Even if they use the meter, they use other tricks like driving slowly or taking a longer route.
Your only comfort is that you are not alone. They scam Israelis as well.
Taking the train to Tel Aviv
The other option is to take the train. The train is fast, cheap and convenient but it doesn't run on Shabbat, so from Friday afternoon to Saturday night. It's the same with Jewish holidays and the trains don't usually run at night either.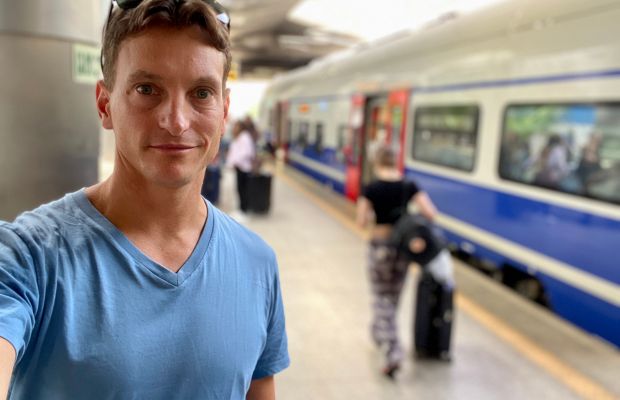 How can you be sure if the train is running when you land? Check the Israeli rail network website.
Paying for your train ticket is really easy. You can pay by cash, credit card, Rav Kav or via different apps. Check my posts about the apps and the Rav Kav. Inside the welcome hall there's a public transportation booth where you can purchase a Rav Kav.
The ride to Tel Aviv takes 15 minutes and costs 9 shekels, so around 3 dollars.
In Tel Aviv there are four stations.
The first one is called Tel Aviv HaHagana. If you look at the map, you'll see that the main bus station in Tel Aviv is right next to it and you might think: I'll just take the train and then the bus from the main bus station.
The area around the central bus station in Tel Aviv is not somewhere you want to be walking around.
Tel Aviv is rich, Tel Aviv is the capital of high tech in Israel, but you will see none of that in the HaTachana HaMercazit (central bus station) area.
You can walk around there during the day but I would advise solo female travelers to stay away from that area. Men shouldn't go there at night either.
The next two stations are HaShalom and Savidor. I assume that HaShalom will be closer to your hotel but Savidor is also in the center.
Renting a car at Tel Aviv airport
I recommend renting a car at the airport only if you are heading to the Galilee or the deserts (the Judaean Desert or the Negev).
If you're starting your trip in Jerusalem or Tel Aviv, do yourself a favor and avoid driving in the cities. You want to be able to enjoy yourself…
Tours in Tel Aviv
As a guide, I often say that there are no two cities in the world like Jerusalem and Tel Aviv – they are so close geographically and yet so different.
Tel Aviv is on the shore, Jerusalem is high up in the mountains. Jerusalem is old, Tel Aviv is young.
Tel Aviv is rich and secular, and Jerusalem is poor and of great religious significance.
In Jerusalem, there are sites that you just have to see, in Tel Aviv you don't have to do anything – you can just lie on the beach and drink your martini.
On social media you can find loads of good tips if you're looking for cool cafés or neighborhoods, like Neve Tzedel or Florentin, and everyone will tell you to visit Levinski Market or HaCarmel Market.
That being said, if you just want to go to the beach and soak up the pleasant atmosphere, you can do that in any number of other destinations that aren't as pricey.
I do think it's worth your while to take tours in Jaffa and Tel Aviv. On my Tel Aviv and Jaffa tours and in my booklet I talk about the history of Jaffa, which is actually an ancient port city, and the history of Tel Aviv, but I also like to talk about Israel.
After all, the state of Israel was established in Tel Aviv. As I see it, Jerusalem is more about the Jews, and Tel Aviv is more about modern Israelis.