When thinking about visiting Israel, or any other destination, what normally springs to mind are specific sights, meeting new people, the local cuisine and accommodation.
But very little thought is given to logistics and transportation.
Travelers don't really notice it but they spend a large portion of their time on the road. On a very popular tour, for example, from Jerusalem to Masada and the Dead Sea and back to Jerusalem, you'll be more than three hours on the road.
The distances can't be shortened but if you plan well and understand the various options available, you'll be able make the most of your time.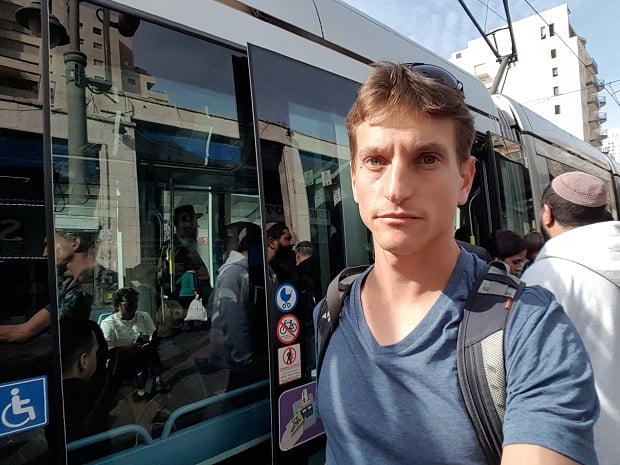 Renting a car
Renting a car is the best way to get around between the main cities and the Negev and Galilee regions.
Driving in Tel Aviv and Jerusalem is not much fun. The traffic is pretty bad and there are lots of one-way streets, plus it's very hard to finding parking spaces.
You can, of course, rent a car at the airport, but I usually recommend first visiting Tel Aviv and/or Jerusalem without a car in order to recover from the flight, acclimate yourself and get a feel for the place, and only then renting a car.
Road signs in Israel are also in English. You usually have to be at least 25 years of age to rent a car. A valid driving license from your native country is enough in most cases.
There is rarely the need for an international driving license. Renting a car in advance, over the internet or by phone, will be much cheaper than renting the car directly at a company in Israel.
Trains
Trains are the best way to travel between the Ben Gurion Airport and Tel Aviv, Haifa, Akko (Acre), and Be'er Sheva, plus more places along the coast. Note that trains do not serve Jerusalem.
Visit the Israel Railways' website
Buses
The most common form of public transportation in Israel is the bus. There used to be only two main bus companies – Dan (in Tel Aviv and the surrounding cities) and Egged (in the rest of Israel).
Today there are a number of companies to choose from. There is no need to buy tickets in advance, unless you take buses to Eilat in the summer.
Monit Sherut
These shared taxis (or service taxis) are vans that typically seat ten passengers. They follow the routes of the main bus lines and are a little bit cheaper. They also run on weekends and Jewish holidays as well as between some cities.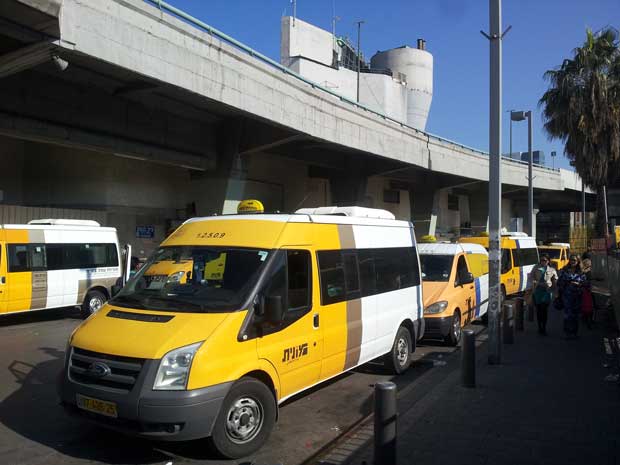 Transportation on Saturdays
Because most public transportation does not run from Friday afternoon to Saturday evening, I recommend planning your trip so that you spend weekdays outside the cities – in either the mountainous Galilee region or the Negev Desert – and weekends in the main cities. Another advantage is that the nature parks are much less crowded on weekdays and that there is much more going on in the cities on weekends. You can always take a taxi on Saturdays, but it is more expensive than other options. As mentioned above, Monit Sherut taxis run on Saturdays between the main cities. They pick up passengers in Tel Aviv outside the main bus station, in Jerusalem on Kook St., and in Haifa on HeHaluts St. 
Driving in Israel
The steering wheel is on the left side of the vehicle, and you drive on the right side of the road (like in the United States and continental Europe). A valid driving license from your native country is enough in most cases. There is rarely the need for an international driving license. From November to April you are required to have your headlights on even when driving during the day.
There is heavy traffic in the mornings toward Tel Aviv and Jerusalem. The most traffic is on Sunday mornings and Thursday afternoons, while the roads are fairly clear on Fridays and Saturdays. When weather is nice on Saturdays, there will be pretty bad traffic from the north toward Tel Aviv.
Highway numbers:
North-south highways have even numbers – 2, 4, 6, 40, 90
East-west highways have odd numbers – 1, 5, 65, 75, 431, 433
There are three toll roads:
Highway 6: There are no toll booths so if you're driving a rental car you'll have to pay the normal toll plus a NIS 50 surcharge, so beware. You can avoid these charges by taking other roads – Highway 2 along the cost or Highway 90 along the Jordan River.
The Carmel Tunnels: The tunnels take you under Haifa, straight to the other side of Mount Carmel. There are toll booths. If you're not in a hurry, you can drive along the Haifa Bay instead.
On Highway 1, there is an extra fast lane that costs money on the portion of the Jerusalem-Tel Aviv highway from the Ben Gurion Junction to Tel Aviv.
Driving and transportation apps:
Waze – By far the most popular driving app in Israel. It tells you the fastest route (you can plan your trip with or without toll roads).
Moovit – This is a good public transportation app.
Israelis are just as impatient behind the wheel as in other areas of life. They are particularly quick to blow the horn, even when it's not necessary. Also, many Israeli drivers don't signal when changing lanes, so watch out!
Drive safely!